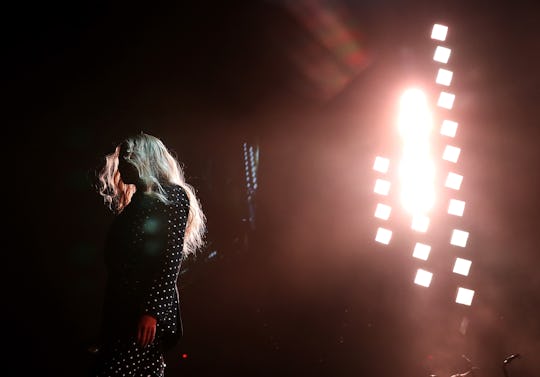 Justin Sullivan/Getty Images News/Getty Images
Did Beyonce Drop Baby Clues At Her Last Show?
Ever the queen of surprises, Beyoncé amazed her fans on Wednesday with the news that she is expecting twins. That she managed to unveil this momentous development with nary a rumor infiltrating social media beforehand is an absolutely amazing feat, considering the microscope she's constantly under. And as we all celebrate the good news, it's tempting to retrace Bey's steps, so to speak, and figure out whether there were any clues we may have missed. As we freak out over the flawless superstar's growing family, for example, were there any indications in Beyoncé's last performances before announcing her pregnancy that she had such a bombshell in store?
Beyoncé's second pregnancy announcement was a bit more low-key than the first, when in 2011 she revealed a baby bump after performing "Love On Top" at MTV's Video Music Awards. This time, she debuted her pregnant belly in an Instagram post that featured the celebrated entertainer in front of a humongous flowered wreath, sporting lingerie and a trailing green sheer veil. "We would like to share our love and happiness. We have been blessed two times over," the post's caption reads. "We are incredibly grateful that our family will be growing by two, and we thank you for your well wishes." It's signed "The Carters."
So far, that's all the info that Bey and her husband Jay Z, whom she married in 2008, have revealed to a public that's already hyped up on the news. The notoriously private couple is keeping their exact due date private for now — but we know Bey likely opted to adhere to the general 12 weeks' waiting period rule of thumb before clueing in friends and family (or at least the world). So, have we seen her onstage as a second-time mama-to-be?
If fan calculations about Bey are true (most have guessed that she's about three months pregnant, based on any number of facts that only the Beyhive knows) then her twins may have been just beginning to bud inside of her when she performed at a pre-election rally with then-presidential candidate Hillary Clinton in Cleveland on Nov. 4. There, Beyoncé, who had just wrapped up her Formation World Tour the month before, gave a shoutout to her daughter, Blue Ivy, who turned five in January. "I want my daughter to grow up seeing a woman leading the country," she told the crowd, according to The New York Times. It was her last public appearance before she upended timelines everywhere with the twins announcement.
At the time, both Clinton and Beyoncé fans rejoiced over the fact that Bey — who introduced Clinton to the crowd along with Jay Z — sported a pantsuit, Clinton's iconic signature attire. But Bey's loose fitting polka-dot pick may have served double duty to hide the her pregnancy, as British tabloid the Mirror now hypothesizes. During her performance of "Formation," the singer is just as enthusiastic, and showed off just as much skilled choreography, as ever, but that doesn't necessarily mean she didn't already know that she was expecting. Beyoncé, of course, is a true professional, having gone on with shows while bleeding from an apparent earring injury, with her hair caught in a fan, and even while experiencing major earpiece malfunctions during her iteration of the national anthem at President Obama's second inauguration.
Whatever the case, Beyoncé decided to do the performance while she may or may not have been pregnant. And true to character, it was, of course, flawless.