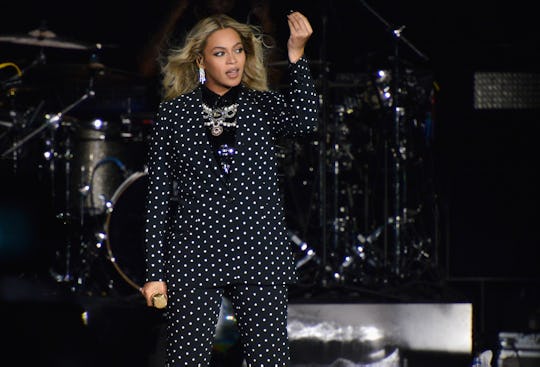 Duane Prokop/Getty Images Entertainment/Getty Images
Photos Of Pantsuits Women Are Wearing To The Polls Are Incredibly Cool
On the final Friday night before Election Day, Beyoncé showed up for Hillary Clinton in a big way, performing at a Cleveland, Ohio, rally in support of the Democratic nominee — and sporting a polka-dot pantsuit in homage to the potential first woman POTUS. Just days later, some psyched about a Clinton presidency are doing the same and donning their own Hillary-inspired pantsuits and heading to the polls to vote for her. Clinton herself, of course, showed up to her New York polling place in a snappy tan and white one, and photos of the pantsuits other woman are wearing this Nov. 8 are just another reminder that the United States just might make history today.
Clinton's iconic outfit of choice is, by now, a symbol of the barriers she broke down by becoming the first major party presidential nominee, and possibly the first Madame President. Even her own Twitter bio identifies her as a "pantsuit aficionado" — so it's no surprise that her most fervent supporters are out in force this Election Day, and, just like Beyoncé, are "in formation" thanks to a supposedly secret, invite-only Facebook group responsible for the pantsuit phenomenon of 2016.
The group, aptly dubbed "Pantsuit Nation," was formed just 18 days before the election but has amassed nearly two million members in that short timeframe, according to The Washington Post. It's a space for women and men to literally talk about pantsuits, like discussing where to buy them and making plans to wear them to the polls. But the real point of the group is simply to share enthusiasm for the candidate; no negativity about even Clinton's opponents is permitted, and moderators enforce the rule.
And Libby Chamberlain of Maine, the group's founder, said the existence of the group actively challenges the belief that even Clinton's base isn't exactly revved up about her, as she told ABC News.
I think that there was a real lack of attention being paid to this group of people who are really firmly in support of Secretary Clinton and enthusiastic about her and not just thinking of her as the candidate against their opponent ... The media narrative has been that people don't like her but there's a huge group of people that are enthusiastic about her. So when this space came into being, people flocked to it. We think that she's incredible and that she's an unprecedented candidate in terms of her preparation and her experience and her vision for the country.
At the final presidential debate last month, Clinton rocked a white pantsuit, a clear nod to the women's suffrage movement. Although she's worked to show that she would be a president dedicated to all the people, for her to proudly acknowledge the women who devoted themselves to ensuring women's right to vote was inspiring, and the sentiment reverberated to Election Day:
Because all of that made it possible for one hardworking woman to cast a ballot for herself on the morning of Tuesday, Nov. 8, 2016, and no matter what the final result, that sight is a powerful one for so many women and girls (and men and boys, too!):
And because of that, one of the many ways to celebrate is to participate in one of the greatest traditions of our democracy in a pantsuit:
And the magic of wearing a #pantsuit to the polls isn't limited to women, either:
The pantsuit phenomenon is an undeniably fun way to recognize excitement about Clinton's candidacy and what it represents. But the most important aspect of Election Day definitely is not dressing — it's making sure to show up and vote, no matter what.