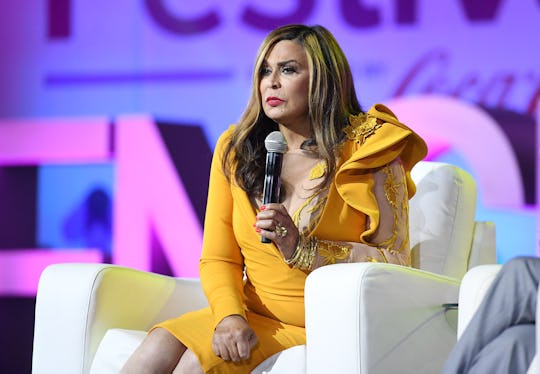 Paras Griffin/Getty Images Entertainment/Getty Images
Beyoncé's Mom Just Cleared Up A Big Rumor About The Twins
Early Friday morning, Beyoncé debuted a photo of her newborn twins on her official Instagram account, and fans went wild. In the caption for the photo, Beyoncé wrote that their names are Sir Carter and Rumi. This led to a little bit of confusion over what their names were, exactly. Were they Sir Carter Carter and Rumi Carter, or Sir and Rumi Carter? And were they really a boy and a girl, as everyone had claimed? Well, Beyoncé's mom just cleared up that huge rumor about the twins on Instagram, so we can all focus on other important aspects of the photo now — like, how does someone look that ethereally beautiful a month after giving birth to twins?
According to Fader, not long after Beyoncé posted the photo on Instagram, her mother, Tina Knowles, posted the photo of Beyoncé and the twins too. But her post included a little more information than the one her daughter posted, and it cleared up some major confusion about her grandchildren's names.
Because Beyoncé's photo of the twins was captioned, "Sir Carter and Rumi 1 month today. 🙏🏽❤️👨🏽👩🏽👧🏽👶🏾👶🏾," people weren't sure if one baby's name was Sir Carter Carter or just Sir Carter. And it was unclear if they were a boy and a girl, both boys, or even both girls (come on. It's not like people haven't done stranger things when it comes to naming their kids).
But Tina Knowles' Instagram post cleared things up a little bit. Tina's post was captioned, "So Happy my baby shared a photo of her babies with the world ❤️❤️❤️proud grandma hello Sir Carter and Rumi Carter❤️🙏🏾❤️ Boy and girl what a blessing ❤️".
That's a little more clear, right? Beyoncé's mom broke up the twins names into Sir Carter and Rumi Carter, rather than Sir Carter and Rumi. So if she is correct — and let's be real, she's their grandma, so hopefully she has this right — the twins' names are Sir and Rumi, and Beyoncé got both a son and a daughter this time around.
It's unclear why Beyoncé chose to caption the photo and style the twins' names the way she did on it. I mean, Sir and Rumi Carter sounds a bit like a married couple rather than siblings, so maybe she was trying to avoid that awkwardness. Or maybe Sir was born first, and the order reflected that fact, and Beyoncé just forgot to put Carter after Rumi's name as well.
The purple, pink and blue robe (which was actually a dress designed by Palomo Spain) Beyoncé has wrapped around herself hinted perhaps that the twins were a boy and a girl, but that wasn't confirmed in her post either. However, Tina Knowles seemed to clear that up as well. Go, Grandma.
Over on Twitter, Mathew Knowles — Beyoncé's father and grandfather to the twins — shared the photo as well, but he captioned it much more simply, "Beautiful! #ProudDad #ProudGrandDad #Beyonce". His post was not very informative at all, so thankfully, Tina Knowles filled in more of the blanks for us.
It's been a month since Sir and Rumi were born, if Beyoncé's post is being exact with the date, and during that time, fans weren't 100 percent sure of their names, even though she and husband JAY-Z filed a trademark for the names, according to the BBC.
The BBC also suggested that Rumi is both a popular Japanese girl's name and the name of a 13th Century Persian poet. Sir is an extremely common honorific, but not a particularly common name at all, which makes the choice all the more unique.
We may never know why the famous couple chose the names they did. But at least now we know what their names are, and the fact that they are a boy and a girl. And it's all thanks to Grandma Tina.