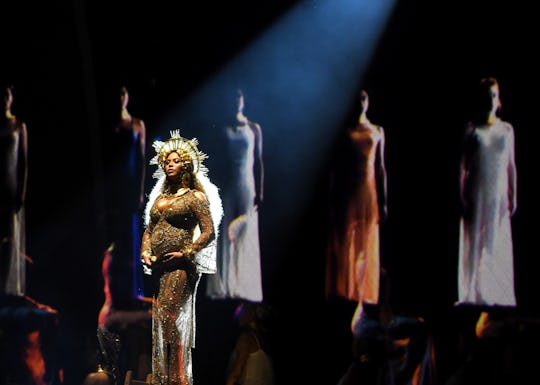 Kevork Djansezian/Getty Images Entertainment/Getty Images
The Genius Designer Behind Beyoncé's Twins Photo Robe
Early Friday morning, Beyoncé debuted her new twins, Sir and Rumi Carter, in a breathtaking photo she posted to Instagram. In the photo, Queen Bey is wearing a long, flowing dress that cascades down her body. So who designed Beyoncé's robe in her twins' photo? Alejandro Gómez Palomo is apparently the designer behind the gorgeous get-up, as it turns out.
According to Vogue, Gómez Palomo, the genius behind the dreamy menswear line Palomo Spain, originally designed the bright floral garment for his Spring 2017 look book. About a year ago, after being sent a loaner sample, Beyoncé's placed a custom order for the one-of-a-kind vintage organza dress. But before she could wear the piece, the 35-year-old entertainer became pregnant with her twins, Vogue reported.
Gómez Palomo didn't expect the Queen Bey to don the garment, so imagine his surprise when he saw her Instagram photo Friday morning. The visionary designer told Vogue,
This is a really big surprise, obviously. I love the picture. It's just really beautiful. It's special.
Of course, the image also surprised Bey's millions of fans around the world. No one knew when Queen Bey would reveal her adorable twins, Sir and Rumi, to the world. So the early morning Instagram post came as a (welcome) shock to everyone.
In the photo, Beyoncé is in a garden, gingerly leaning against a "throne" or wreath made of flowers, leaves, and twigs that's positioned between trimmed hedges. In the distance is the deep blue ocean. Sun rays illuminate Bey's face while she cradles Rumi and Sir Carter in her arms. The powerhouse singer is wearing a floor-length pastel blue veil and the iconic Palomo Spain dress.
Beyoncé's photo, which has over 7 million likes as of 10 a.m. Eastern Time, is something you'd find in a glossy fashion magazine. But the image represents more than a high-fashion editorial; In a lot of ways, it can be seen as a revolutionary act.
As Out reported, Palomo Spain is a menswear line of elegant, and feminine threads geared towards queer men. Gómez Palomo launched his label in 2015 with the intention of dismantling gender norms and expectations. The dress Bey is wearing in her Instagram post? That was originally styled on model Jason Harderwijk for Gómez Palomo's Spring 2017 look book, "Boy Walks In An Exotic Forest."
The significance of Queen Bey's internet-breaking photo and her choice to wear menswear for the reveal is not lost on Gómez Palomo. He told Vogue,
For the community that I represent, the feedback is really important and meaningful… I feel validated, in a way. It means a lot, I think.
Gómez Palomo is nothing short of a revolutionary designer. He takes chances and defies restrictive stereotypes with every trim, thread, and pleat. And he elevates his romantic, line-blurring aesthetic with a flamenco-inspired Spring 2018 line, seen here in Women's Wear Daily.
One can only imagine the orders Gómez Palomo will now receive given that Queen Bey has rocked his menswear for all the world to see.