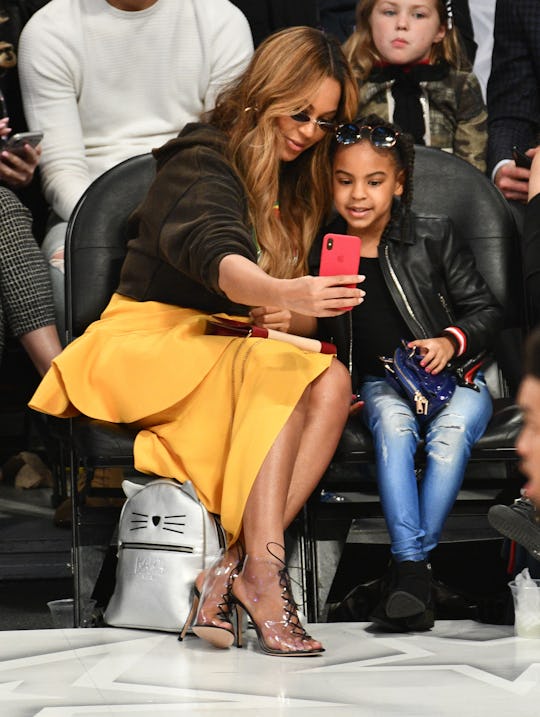 Allen Berezovsky/Getty Images Entertainment/Getty Images
Beyoncé's Mother's Day Plans Sound So Relaxing
Mother's Day can be a stressful holiday for some families, which is why you might want to take a hint from Tina Lawson and Queen Bey. According to Us Weekly, Beyoncé's Mother's Day plans sound just delightful. The magazine caught up with Beyonce's mom at the Kentucky Derby over the weekend and learned that she was headed to Europe with the whole family. Knowles said that they try to keep it as simple as possible.
She said, "We [usually] have brunch. Either I cook or we go to brunch, and I would love to cook for them, so hopefully I get to do that." Of course, she added that brunch would be Creole if she had her way.
Lawson, who's also mom to Solange and her stepdaughter Bianca, says that she always gets presents for her daughters, too. She explained, "I just figure [whatever I give] would be something she'll love. All of my daughters. I have three. But I usually give them all the same thing." The 64-year-old grandmother added that her daughters never forget to get her a present, either. She said added that hey keep it simple, too. "My kids are really big on creating photo albums. That was the best Mother's Day present I ever had. They've given them to me on several occasions, and it's the best."
So if you want to really live like Bey, all you have to do is get together for brunch and make your mom something sweet and sentimental. Not bad, right?
According to Entertainment Tonight, Beyoncé is already traveling, so will likely meet up with her mother by the weekend. She and JAY-Z, who never seem to miss a fashion moment, skipped the Met Gala on Monday night in New York. The gala, which is one of the most elite parties of the year hosted by Anna Wintour, is usually a place where Bey struts her stuff. (It's also where her sister reportedly fought JAY-Z in an elevator back in 2014.)
However, a source told ET that JAY-Z whisked her away on a romantic getaway in order to rest up for the joint summer tour. "JAY-Z surprised her with a trip because he felt she needed to relax before her tour," the source said. They added that it wasn't because Beyoncé wasn't invited. In fact, she was reportedly planning on wearing a custom design dress by DUNDRAS. Alas, she'll have to save it for another major event. It's cute that even Beyoncé's mother won't let her miss Mother's Day. Just like the rest of us people out there.
Bey and her mom are famously close. The singer told The New York Times:
My mother has always been invested in making women feel beautiful, whether it was through someone sitting in her hair chair or making a prom dress for one of the girls at church. And her art collection always told the stories of women wanting to do the same.
Solange had the same kind things to say about her mother's influence on her life and art. She said:
My mother has a very special way of communicating, a very special channel that she speaks through that has always felt bigger than her. If my sister and my project feels like an 'awakening' to some...I am constantly saying that we both grew up in a home with two words: Tina Knowles.
Basically, their mother was such a driving force in their careers they can't not trek all the way to Europe for a Creole brunch this holiday. Which makes sense, as much as the BeyHive loves their girl, Tina is also a star in her own right. According to the New York Times, Crissle West, a co-host of the podcast described her as "basically everybody's auntie who is a sweetheart, but still keeps it real when necessary." So yea, when she tells you to cross an ocean for Mother's Day, you ask her what time the plane's picking you up.
Check out Romper's new video series, Bearing The Motherload, where disagreeing parents from different sides of an issue sit down with a mediator and talk about how to support (and not judge) each other's parenting perspectives. New episodes air Mondays on Facebook.