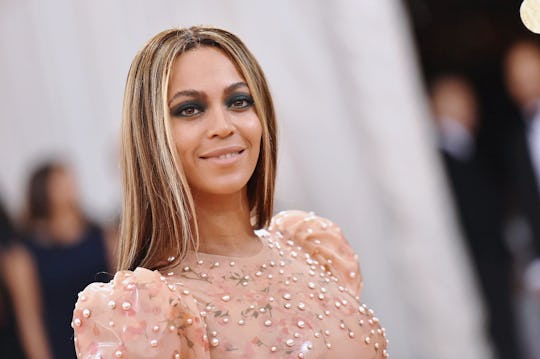 Mike Coppola/Getty Images Entertainment/Getty Images
Beyonce's Postpartum Instagram Photos Prove She Couldn't Care Less About Mom-Shamers
Ever since Beyoncé gave birth to twins in June, fans have been paying close attention to her Instagram account. Whether your a proud member of the Beyhive or just a curious spectator, many people can agree that Beyoncé's postpartum Instagram photos prove she's living her best life. Beyoncé has been unabashed about balancing her time at home with Rumi and Sir Carter and her time for herself. Beyoncé is a queen people, and she's 100 percent unbothered by what you think.
Long before Lemonade dropped, Beyoncé has been assured in her life choices and her womanhood, which has done unimaginable good for young women everywhere. Beyoncé wisely once said, according to Interview magazine:
When you love and accept yourself, when you know who really cares about you, and when you learn from your mistakes, then you stop caring about what people who don't know you think.
Truer words have never been spoken.
Now that you're all caught up on Beyoncé's amazing ways, here's how her postpartum Instagrams proves she's living her best life.
Exhibit A: She's Having Fun
Beyoncé is having all of the fun, you guys. On Saturday, Beyoncé shared a cute snap of herself at a roller rink.
According to TMZ, Beyoncé went to the Los Angeles area rink with "8 friends" and her husband, JAY-Z. By all accounts, Beyoncé and her group had an enjoyable time skating and hanging out in the rink's VIP room.
Considering "10 to 15 percent of women suffer from postpartum mood disorders," according Postpartum Progress, it's great that Beyoncé's making a conscious effort to hang out with her friends and that she's partaking in activities that bring her joy. Although it's not easy or even feasible for a lot of parents to follow Beyoncé's example, it's wonderful that Beyoncé is sending the message that it's OK for parents to have fun.
Exhibit B: She's All About Self-Care
Remember when some fans tried to make Beyoncé feel guilty about enjoying a post-pregnancy glass of wine? Yeah, that was ridiculous.
Silly drama aside, it's obvious Beyoncé understands the importance of me time. Furthermore, Beyoncé isn't ashamed to demonstrate her need for self-care, which is amazing considering a lot of parents receive flak for taking care of themselves. Self-care is important, and it can make people better parents.
As for whether or not Beyoncé has responded to the wine backlash, the answer is a big no. Beyoncé is way too busy enjoying her life to address mommy shamers.
Exhibit C: She's Taking Time For Love
If you're a parent with a partner, you know that date nights are important. Now that Beyoncé is no longer carrying around two tiny humans inside of her, she and JAY-Z have been enjoying each other's company at a variety of fun locales. On July 14, Beyoncé shared a cute photo of the couple gazing into one another's eyes. Although the location of the photo is unknown, it's clear Beyoncé's focused on keeping her relationship healthy, and she's unabashed about enjoying a night out or a weekend away with her husband.
Exhibit D: She's Confident & Glowing
To be fair, it's likely that Beyoncé has a glam squad to get her ready for nights out on the town. Extra help aside, it's important to recognize Beyoncé's post-pregnancy confidence, and her desire to project a stylish image. Beyoncé liked to dress up before she had children, and based off the July 14 post above, this preference hasn't changed. Although it's totally OK for parents to opt for comfy clothes full-time (comfy can be stylish too), it appears that high-fashion is what makes Beyoncé the happiest. Just because Beyoncé's a mom of three doesn't mean she shouldn't spend time looking what she feels is her best.
As a public figure, Beyoncé is forced to weather bouts of public scrutiny. The good news is Beyoncé could care less about the criticism. Beyoncé is living her best life, and her postpartum Instagrams prove it.