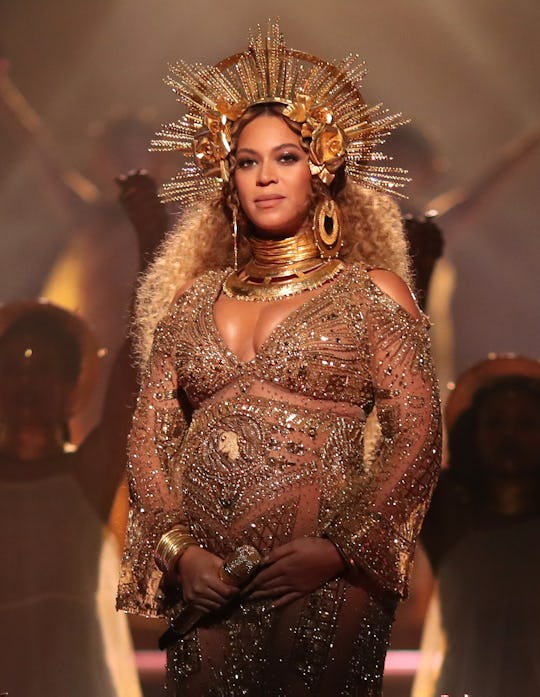 Christopher Polk/Getty Images Entertainment/Getty Images
Beyonce's Valentine's Day Clothing Collection Is Here, & You Have To See It To "Beylieve" It
If Beyoncé is your bae's true valentine, look no further than her website when shopping for Valentine's Day. (Or, if Bey is your true valentine, get prepared to drop a whole lot of money on yourself. You deserve it.) Beyonce just dropped a line of Valentine's Day merchandise on her website in honor of the upcoming holiday. The collection features T-shirts, sweatshirts, and crop tops, as well as shorts and phone cases. Each item is inspired by Bey and her love songs — including "Baby Boy," which she released way back in 2003.
Not to mention, the clothes look pretty damn comfy. Because even though the clothes are designed for Valentine's Day, Beyoncé knows that a T-shirt with her face on it is just as sexy as lingerie. Additionally, all the tops are available in sizes S through 2XL.
Beyoncé has dropped many merch collections in the past. In December, she released a badass holiday line, featuring onesies, wrapping paper, and a plain pink T-shirt that read "Beyoncé Holiday Sweater," in plain handwriting. Talented, gorgeous, and funny? Bey truly is flawless.
Here are the 10 items in her Valentine's Day collection — no one will judge you for treating yourself to a little Bey day treat.
All Night T-Shirt, $35
"All Night" is the finale on Beyoncé's visual album Lemonade. "Sweet love all night long," Beyoncé sings over and over on the track. "All I wanna, ain't no other." So, this shirt is probably a good gift for bae if you're in a ~serious~ relationship. Plus, the back reads "Beyoncé."
King of Hearts Longsleeve, $45
This top features a drawing of Beyoncé in one of her outfits from husband JAY-Z's "Family Feud" music video. Vanity Fair surmised that the outfit was inspired by Russian Orthodox vestments. The ensemble is also clearly reminiscent of the Queen of Hearts from Alice in Wonderland, and the shirt's title "King of Hearts" could be a reference to Cassie's "King of Hearts," a song Beyoncé once said she couldn't stop listening to.
Rocket Hoodie Sweatshirt, $65
This sweatshirt is a reference to Beyoncé's wordplay-ridden song "Rocket," where she tells her lover to "rock it 'til waterfalls." The song has some pretty sexy undertones, so it makes sense that Beyoncé paired the phrase with such a sexy picture.
The Body T-Shirt, $35
Beyoncé has "the body." Nuff said.
Bey Mine Crop Top, $35
Sorry, lemons — Bey is feeling cherries this time around. The Bey Mine crop top has a pair of cherries, and it reads "Beyoncé" on the sleeve.
Fantasies T-Shirt, $35
Beyoncé first sang the phrase "Baby boy you stay on my mind, fulfill my fantasies" 15 years ago. The song, which features Sean Paul, is still such a classic Bey tune — and now it's immortalized on T-shirt. The top features a drawing of her from the music video and reads "Fulfill my fantasies." Love it.
Bootylicious Shorts, $40
Queen Bay is paying homage to her Destiny's Child days with these Bootylicious shorts, which naturally read "Bootylicious" on the booty. They also read "Beyoncé" on the front — hopefully Kelly and Michelle don't mind the omission.
Bey Mine Phonecase, $30
When you have wordplay as good as "Bey mine," why limit yourself to just one crop top? The phrase also appears on a super cute iPhone case, available in iPhone sizes 6 through X.
Cherry Phonecase, $30
Seriously, "Bey mine" is too good not to include it on as many items as possible. If the above phone case is a little too simple for you, this version combines the wordplay with cherries. And it's also available in iPhone sizes 6 through X.
Fantasies Phonecase, $30
Throw it back to "Baby Boy" every day with an iPhone case to match your T-shirt. This case is also available in iPhone sizes 6 through X. But is anyone else wondering where Bey's legs are?
Those in the Beyhive definitely want to get their hands on these item, which are available on Beyoncé's website now.