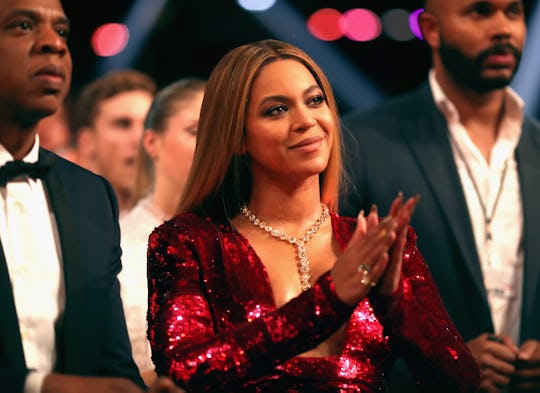 Christopher Polk/Getty Images Entertainment/Getty Images
Beyoncé's 'Wearable Art' Gala Dress Is Amazing
She may be in her third trimester, and she may be pregnant with twins, but Beyoncé was clearly not about to let it stand in her way of supporting a good cause close to her heart. On Saturday, the star attended the inaugural Wearable Art Gala at the California African American Museum in Los Angeles, and, unsurprisingly, Beyoncé's Wearable Art Gala Dress made her look like, well, a work of art. According to Entertainment Tonight, Queen Bey made an appearance at the gala to support her mother, Tina Lawson, who organized the event on behalf of her newly-established non-profit WACO Theater Center in Los Angeles. And while she skipped the red carpet, photos of the event on social media show that Beyoncé looked every bit as flawless as you'd expect her to.
According to E! News, Beyoncé chose to show off her growing baby bump in a long-sleeved, red silk gown by STELLO, and accessorized the dress with what was quite possibly the world's most glamorous flower crown. Beyoncé's husband, Jay Z, and their daughter, Blue Ivy, also attended the event. And, in case there was any question that the gala was truly a family affair, Beyoncé also shared an incredible snap on Instagram of herself alongside her mother, her sister, Solange, and her former Destiny's Child bandmate, Kelly Rowland, in celebration of the event's success (the gala raised almost $1 million for the WACO Theater Center, which offers mentorship programs in the arts for young people).
While Beyoncé chose not to speak to reporters, her mother made it clear that they were all anxiously awaiting the arrival of the two newest Knowles-Carters. Lawson and her husband, Richard, told People that Beyoncé and Jay Z are "incredible parents," and that as a mom, Beyoncé is "really patient and kind." As for her own excitement towards welcoming two more grandchildren, Lawson said she was "so excited" and that she "can't wait" for the twins' birth.
Beyoncé may be laying low during the remainder of her pregnancy, but that certainly doesn't mean she hasn't been busy. Lawson explained to Entertainment Tonight that Beyoncé, Solange, and Rowland all pitched in as honorary gala chairpersons, and that it was "all hands on deck" when it came to pulling off the event.
Gala aside, Beyoncé also seems to be making the most of her pregnancy-induced work hiatus by spending plenty of time with friends and family. On Easter Sunday, Beyoncé, Jay Z, and Blue Ivy spent the day celebrating with Lawson and their family and friends at the Beverly Hills Hotel, and last week, the singer was spotted celebrating Jessica Alba's 36th birthday at her '80s-themed "Prince vs. Michael Jackson" costume party, according to Us Weekly.
While she may be shying away from the red carpet cameras these days, Beyoncé has at least been keeping fans up-to-date with her life via social media. The pregnant star has shared photos and videos of herself and her daughter dressed up at Easter, looking incredible while heading out to dinner in a long, red dress and braids, and posing for a mini Destiny's Child reunion celebrating the release of Rowland's new parenting book, Whoa Baby.
Let's be honest: it might not be easy to show up at a fancy event in your third trimester of a twin pregnancy, but if there's anyone who can do it while still managing to look completely chill and perfect, it's probably Beyoncé. And, given Beyoncé's super close relationship with Lawson, it also seems that if there's one person who can actually entice a heavily-pregnant-with-twins Beyoncé to actually agree to showing up at a fancy event looking totally chill and perfect? It's definitely her mom.