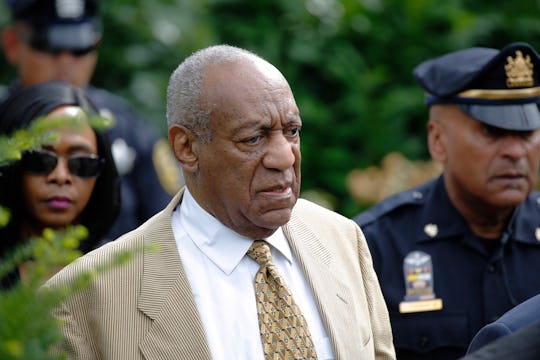 DOMINICK REUTER/AFP/Getty Images
Bill Cosby Is Reportedly Blind & Sick At Home, "In His Own Personal Hell" — REPORT
It has been a long, terrible slide to the bottom for comedian Bill Cosby. Not only has the famous '80s icon managed to shock the world with reports that he allegedly assaulted multiple women, but now, it seems he's in a bit of a health quagmire as well. It was recently reported that Bill Cosby is allegedly almost "completely blind" and sick at home, reportedly "in his own personal hell."
According to Page Six of The New York Post, sources report that Cosby is allegedly living with a degenerative eye condition that has left him "completely blind" at his Pennsylvania home. Cosby is perhaps best known for his previous role as everyone's favorite television dad, Cliff Huxtable from the wildly popular '80s sitcom The Cosby Show.
The outlet's sources also said that Cosby's alleged victims should "...take some solace in the fact that he's in his own personal hell," adding,
He has been suffering from a degenerative eye disease and is completely blind . . . All his Hollywood friends have turned their backs on him. He is confined to his house in Pennsylvania, and the only person on his side is his wife, Camille, who is masterminding his defense. His only friends are the small army of lawyers on his payroll.
Cosby, who turned 79 in July, first showed signs of decreased vision back in January, when two of his lawyers had to lead him into court. While his top lawyers have yet to respond to these recent reports, one of his other lawyers, Monica Pressley, said back in January, "He's a 78-year-old blind man who they've chosen to charge. That's not a defense to a charge, that's just a fact."
It's been bad news all around for Cosby in recent months, with seemingly no end in sight. On Friday, a judge ruled that Cosby could not sue one of his alleged victims (not to mention her mother or the publication they spoke with) because they spoke to law enforcement agents about the alleged assault. (According to Cosby, all parties involved breached a 2005 confidentiality agreement by speaking with law enforcement.)
A judge also ruled earlier this month that Cosby would stand trial for sexual assault charges.
Cosby's publicist did not immediately return a request for comment.