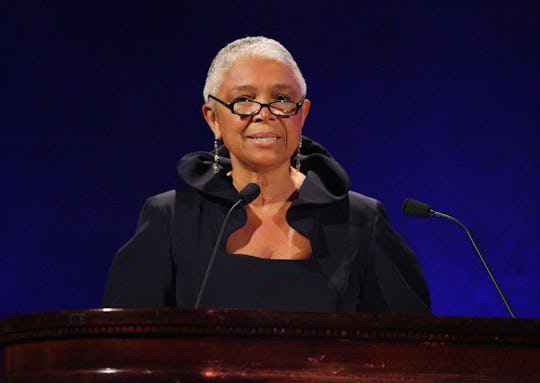 Bill Cosby's Wife Will Be Deposed In The Lawsuit Against Him, & That's Really Important News For This Case
By now, you've likely heard about the many, many sexual assault allegations against comedian Bill Cosby. At this point in time, more than 50 different women have accused Cosby of a variety of sexual assaults, most of whom describe being drugged or incapacitated in some way (being offered "herbal supplements" or other pills) and then raped by the former Cosby Show star. After more than a year of accusations have piled up, Bill Cosby has now been officially charged with sexually assaulting Andrea Constand (and seven other women) back in 2004. Now, Bill Cosby's wife, Camille, has been ordered to give a deposition regarding these allegations to the lawyers representing Constand and others who are named in the lawsuit against Cosby.
A Pennsylvania judge, US Magistrate Judge David H. Hennessy, wrote in a 12-page ruling that because of "(1) the allegations underlying this matter, which implicate ... [Bill Cosby's] sexual history and ... (2) Mrs. Cosby's dual role as defendant's wife and business manager, render it at least plausible that Mrs. Cosby is in possession of information," Camille Cosby's testamony was, in fact, very relevant to the lawsuit.
Prior to this decision, Camille Cosby had attempted to quash (legal speak meaning "to reject") the subpoena for her deposition, but US Magistrate Judge David H. Hennessey put an end to that, citing that because she was not only Cosby's wife but also his business manager at the time, it's very possible she has sensitive information regarding the assaults in question, information which could very well bring to light what exactly occurred in some or all of those instances.
If you're not too familiar with what a deposition is, it's basically the questioning of a real, live witness prior to a trial. The purpose is to find out as much as possible about the witness might know. It helps both parties to know all the facts while also helping them to avoid any surprises during the trial. It essentially helps both side to know what the strong and weak points of the argument are, which allows them to prepare accordingly.
The deposition is also important to preserve a witness' testimony. If a witness says one thing at the deposition and another at the trial, there will be documentation that they have lied or changed their testimony, which may help or hinder either side. Depositions are generally given at an attorney's office, with a court reporter present, and while some objections can be made by the lawyers involved, the witness generally needs to answer most if not all questions to the best of their ability.
Considering the number of allegations against Cosby, Camille's deposition could go on for several days. Her testimony will be vital to what happens next in Cosby's case.
Cosby is currently out on a $1 million dollar bond. Camille Cosby argues that she should not have to testify against her husband, and her attorneys have made it clear they intend to appeal the decision.
Images: Bryan Bedder, William Thomas Caine/Getty Images