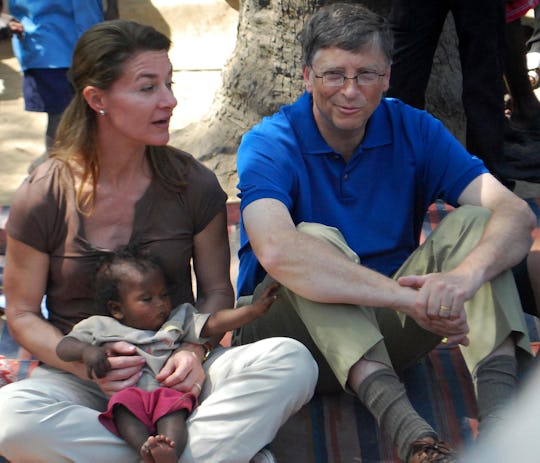 STRDEL/AFP/Getty Images
Bill Gates Won't Leave His Fortune To His Children & Here's Why That's A Beautiful Thing
Ever wonder what it would be like to be the children of the second richest couple in the world? One would think it would be all private jets, sun-kissed holidays, and amazing cars that cost more than mid-size homes. It sounds amazing, but for the children of Bill and Melinda Gates, it's not exactly reality. The billionaire philanthropist wants to teach his children to follow their own path. To that end, Bill Gates is not leaving his fortune to his children. Because Bill Gates and his wife Melinda know a little something about parenting; self-reliance and independence are two of the greatest gifts you can give your children. Even if it seems like billions and billions of dollars would also be an acceptable gift.
The founder of Microsoft announced on the British television show This Morning on Wednesday that he would be leaving his billion dollar fortune to charity instead of his children (daughters Jennifer, 20, Rory, 17, and Phoebe, 14).
"It's not a favor to kids to have them have huge sums of wealth," he said. "It distorts anything they might do, creating their own path."
He and wife Melinda will naturally make sure their children aren't left destitute, and plan to pay for their college. But beyond that, he wants his children to learn to take care of themselves.
"Our kids will receive a great education and some money so they are never going to be poorly off but they'll go out and have their own career."
The Bill and Melinda Gates Foundation is the largest transparently run grant foundation in the world. The foundation is worth over 80 billion dollars, and has made great strides all over the world to carry out their mission to better the next generation with access to health care and education. The Gates' family, instead of simply living off the proceeds of their Microsoft fortune, has made philanthropy a top priority and the Gates' children are no exception. Gates said in a rare interview on This Morning:
"This money is dedicated to helping the poorest. They know that, they are proud of that, they go on trips with us to see the work that's being done."
The Gates' children could have looked forward to lives without obstacles. They would not have had to worry about their careers, or their security, or anything other than themselves. And their parents had the forethought to protect them from such an aimless existence.
It may seem counter-intuitive to "deny" your children the means to drift through life with that level of security. But isn't it better to give your children the chance to truly know themselves? To know what they are capable of, to know that they can stretch and grow and become whoever they want to be? To know their place on this planet and try to make it better?
I so completely admire Bill and Melinda Gates for giving their kids the priceless gift of independence. As their oldest daughter Jennifer studies at Stanford University and their younger daughters, Rory and Phoebe, grow into women, I hope they continue in their parents' footsteps. I hope they make this world a better place.
I hope this for all of our kids.