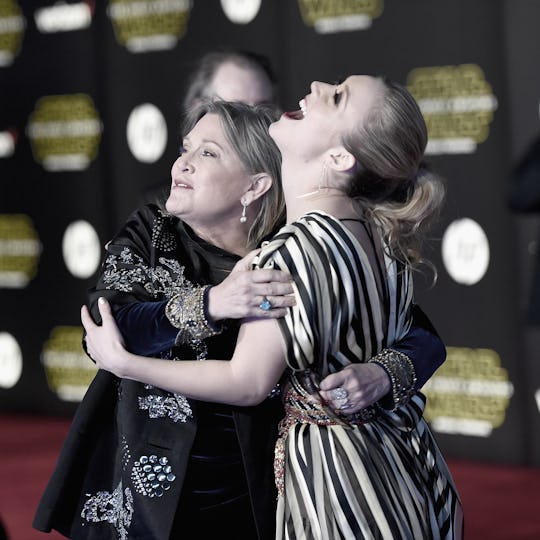 Jason Merritt/Getty Images Entertainment/Getty Images
Billie Lourd Pays Moving Tribute To Mom Carrie Fisher
The 2017 Star Wars Celebration is happening this week. Which is exciting, of course, because the whole Star Wars universe has been blowing up lately with new movies and new characters. But there is one downfall: The Star Wars universe will have to go on without one of its most beloved characters. And the original cast wasn't going to let the sad passing of Carrie Fisher (our very own Princess Leia) go unnoticed. If you really need a good cry today, take a moment to check out George Lucas and Billie Lourd's tribute to Carrie Fisher.
Carrie Fisher died in December, as we all remember. Her mother, legendary actress Debbie Reynolds, died just two days later. Which meant that Scream Queens' actress Lourd was left without a mother or a grandmother in her 20s. No one would blame her for curling up in a ball for a year or so, but clearly her mother raised her to be one tough cookie. Because, rather than curling up in that ball, Lourd kept moving forward, even taking to the stage in a Leia-esque white dress to honor her mom while introducing the memorial montage this week. Speaking directly to the fans who loved her mother so well, Lourd said:
She loved you because you embraced all of her. The strong soldier she was and the vulnerable side, who fought her own dark side. She loved this incredible character she got to create — this force, called Leia.
If you're not crying, we can't be friends.
Lourd went on to perfectly recite Fisher's iconic speech from Star Wars: A New Hope, "Help me, Obi Wan Kenobi; you're my only hope." To thunderous applause (and probably muffled sobbing) of course.
The rest of the Star Wars panel (which consisted of Harrison Ford, Mark Hamill, Billy Dee Williams, Peter Mayhew, and of course, Star Wars creator George Lucas, who had this to say about the inimitable Fisher:
She played a part that was very smart, and she was having to hold her own against two big lugs, goofballs that were screwing everything up. She was the boss. It was her war and when I cast it, I said "I want somebody young to play the part. I want somebody very young." When Carrie came in, she was that character. She was very strong, very smart, very funny, very bold, very tough, and there really wasn't much of a question. There are not very many people like her. They are one in a billion. For this particular part, it was absolutely perfect … she wore a dress through the whole thing, but she was the toughest in the group.
Fisher will be remembered in so many ways — as a mental health advocate, a brilliant writer, a performer with razor sharp wit, a mother, a daughter, and a survivor.
But perhaps she said it best herself when she told USA Today in December (not long before her death) that she, quite simply, is Leia:
She's me and I'm her and it's kind of a Möbius strip. I carry her around and I know her better than anybody else and we wear the same clothes a lot of times. She's mine.
For a brief moment in time, they both felt like... ours.
Billie Lourd may have suffered a terrible tragedy when she lost her mother and grandmother in the same week, but she's proven that she's more than happy and plenty honored to carry on their legacy for them.