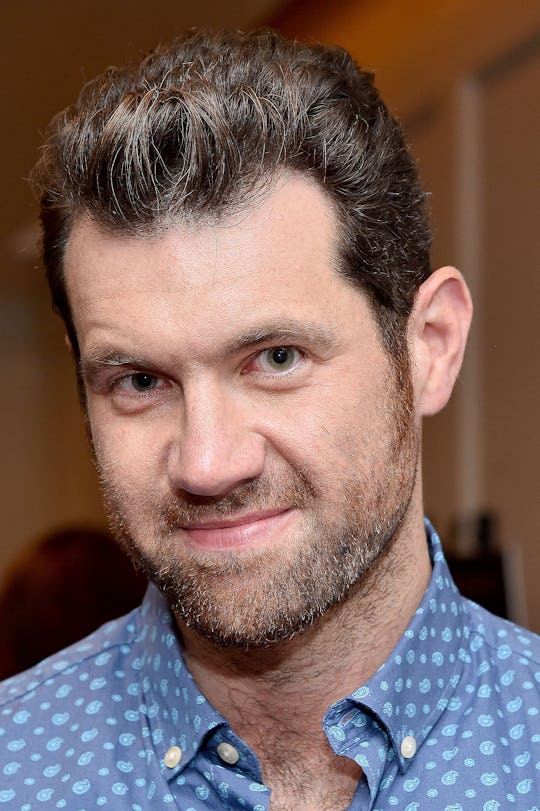 Mike Windle/Getty Images Entertainment/Getty Images
'Billy On The Street' Ambushes Muppets On Sesame Street
As a parent, there are few things that brought me more peace and elemental joy than finding a show the kids and I could all watch together. I know that might sound pathetic but there it is. Sitting down to watch TV with my kids, all of us laughing together at the same things; it's a beautiful moment and you know it. Which is why I was so pumped to see Billy Eichner join Sesame Street; for parents out there who are maybe a little tired of children's programming, it's a real gift to get a little quasi-adult humor thrown at you now and again.
Eichner is of course best known for his manic, energetic game show Billy On The Street, where he confronts pedestrians with pop culture questions. Some of the categories include "Dead or Boring?", "Name 20 White People In 30 Seconds", and "Quizzed In The Face" (where you can use a lifeline called "Compliment his hair" if needed). The show began as a web series on Funny Or Die, and saw Eichner named by People magazine as the "Breakout Star of 2014." All of this was leading Eichner down a path, a path to the granddaddy of true celebrity. A path that lead him to... Sesame Street.
Together with his co-star Cookie Monster, Eichner filmed a special segment of his show on Sesame Street to promote kindness and compassion. Eichner has obviously grown accustomed to celebrity co-stars; after all, he's had big names like both Seths (Meyers and Rogen) on his show, as well as others like Jon Hamm and John Oliver.
Eichner's frenetic energy tends to upstage his fellow hosts, but this time around it wasn't an issue. When Eichner and Cookie Monster were interviewing some of our favorite Muppets (Elmo, Big Bird, Grover, that guy who always orders soup at Grover's restaurant), the prize was a delicious-looking cookie. And naturally, Cookie Monster was getting agitated that all the cookies would be gone. Because word on the street is, he really loves cookies.
The episode is full of Eichner's in-jokes and the Muppets gamely play along (when Grover doesn't know the end of "Sunny days, sweeping the clouds away", Cookie Monster mumbles, "We hear that, like, every day."). Eichner tweeted after the episode that it was the "best day of my life" and posted an awesome selfie with the Muppets.
At the end of the day, Eichner gives Cookie Monster a giant chocolate chip cookie. Which Cookie Monster them breaks in half to share with Eichner as a final nod to kindness and compassion. It was a gentle, sweet, fun reminder of all the things we love about Sesame Street. The surreal celebrity guests, the fun little homages to pop culture; the commercial-free simplicity of a well-intentioned kid's show that still manages to mean something to adults as well. It doesn't get much better than that.