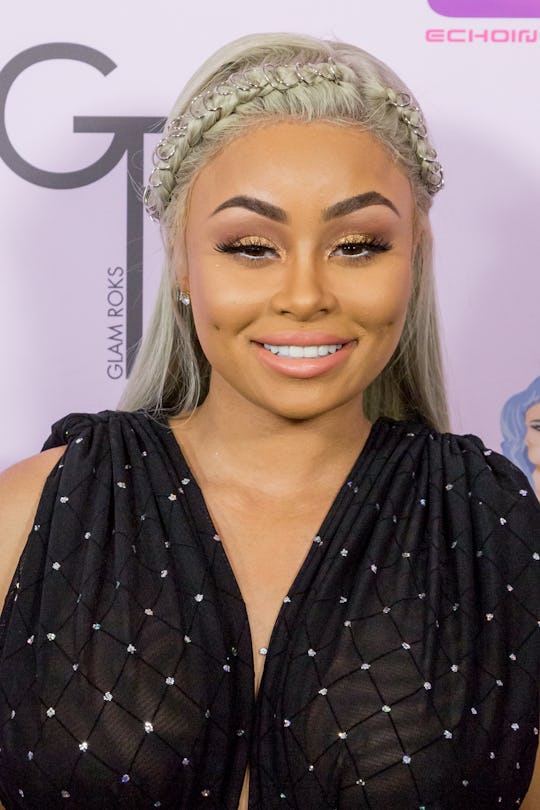 Greg Doherty/Getty Images Entertainment/Getty Images
Blac Chyna Says Her Baby Won't Have A 'K' Name, & The Guessing Game Continues
Since Blac Chyna and Rob Kardashian announced they were expecting a baby, many wondered what the newly engaged couple would name their bundle of joy. Let's face it, there were a lot of questions surrounding the pregnancy announcement, like, how it would affect the relationship between Kardashian's younger sister, Kylie Jenner, and Tyga, Chyna's ex-fiancé and father to her son. But how those relationships pan out are up to the adults involved. At the end of the day, Chyna and Kardashian are welcoming a new life to the world, and that's what's important. And considering the Kardashian-Jenner clan have maintained a tradition of having "K" names, it was only a matter of time before Chyna and Kardashian addressed the obvious question: will their baby continue the "K" name tradition? Chyna says her baby won't have a "K" name, so the baby-name-guessing-game continues.
In a sit-down interview, and photoshoot with Elle, Chyna, born Angela Renee White, shared details about her first job at McDonald's, another job she had stripping to pay for college, and her former relationship with Tyga. When asked about a "K" name, Chyna responded with a firm "no."
The baby won't have a K name. We both agreed. Once I have this baby, I will figure out what's next. I'm not focusing on anything else right now.
Well, it's only a matter of time before fans learn what the parents will decide. It will be interesting if there will be a widespread baby-name-guessing game, similar to the speculations surrounding Kim Kardashian's second pregnancy with Kanye West. The pair, of course, decided on Saint West, but their baby boy was given every direction-related name in the book before he was born.
Chyna and Kardashian will star in E! reality show series, Rob & Chyna, beginning on Sept. 11. As for the baby's gender at birth, Chyna told Elle, "You all will find out [the sex of the baby] during the premiere of our show on September 11."
The couple's new reality show already appears to be pretty engaging, to say the least. A trailer for Rob & Chyna, revealed some of the couple's happy moments, and ups and downs. One of Chyna's lines in the trailer, "Are you still texting b*tches?" is already a memorable one.
Fans will likely tune in to get a glimpse of Chyna and Kardashian's much-talked about relationship. As for the success of the show, as Chyna explained to Elle, she has a good work ethic, and Kardashian appreciates it.
"He likes my work ethic, how I'm a hustler," she said. "I don't care if it's one dollar or a thousand dollars, I'm going to go out and get it."
Chyna and Kardashian have a lot to look forward to. Best of luck to them and their growing family.