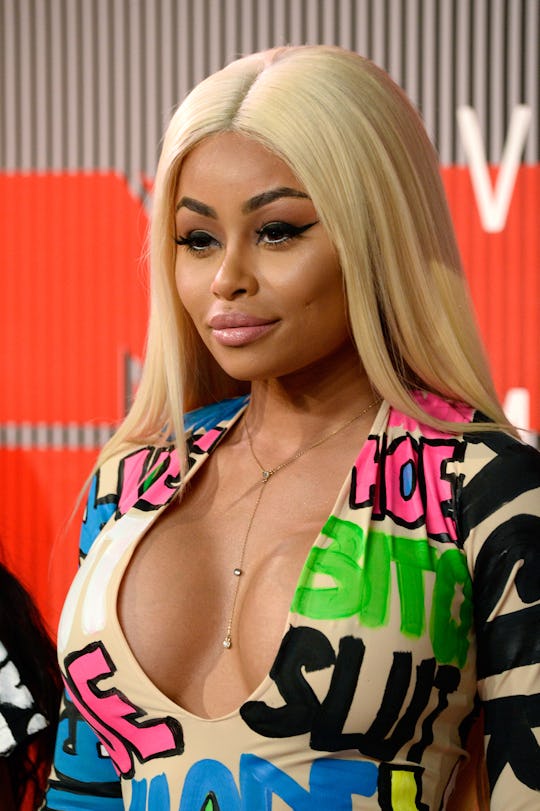 Frazer Harrison/Getty Images Entertainment/Getty Images
What Will Blac Chyna & Rob Kardashian Name Their Baby? There Are So Many Strange Options
Baby news alert. Engaged couple Rob Kardashian and Blac Chyna are expecting a baby. At least that's what the couple revealed Friday on Instagram with an emoji depicting Blac Chyna with a very, very pregnant belly. This relationship sure has sparked a lot of conversation on social networks. Why? Because Chyna was formally in a relationship with music artist Tyga, also the dad to her son, King. Tyga is now dating Kylie Jenner (not to mention that Chyna and Jenner's big sister, Kim Kardashian, were friends) and Rob Kardashian is Jenner's big brother. Well, every family has situations that may be deemed complicated, but ultimately, despite the social media-driven obsession of commenting, and tweeting opinions on celebrities' lives, their relationships are their business. But who's to say there's no light-hearted fun in guessing what their baby's name will be? What will Kardashian and Chyna name their baby? Oh, the options.
Remember when Kim Kardashian and Kanye West were expecting their babies, and for each pregnancy people took to social media to guess what their names would be? It became a nearly worldwide guessing game that many people participated in to guess what would precede "West." And the answers were North and Saint, of course. So now it's Chyna and Rob Kardashian's turn. Luckily, there's a lot of clues to help solve the what-will-the-baby's-name-be-guessing-game.
"Kyna"
Bear with me here. But based on the tradition that all of Kris Jenner's daughter's names begins with the letter "K," it's possible that Chyna and Kardashian may want to follow suit. Here's an added bonus in case it wasn't painfully (I know) obvious already: "Kyna" rhymes with Chyna. And another added bonus is that the name reportedly has Gaelic origins that mean, "intelligent." Everyone wins, right?
"(Insert first name here) Dash (insert last name here)"
OK. Choosing Dash as a middle name for their baby would totally be ripping off Kourtney Kardashian and Scott Disick. The pair chose Dash for their first child's middle name, Mason Dash Disick. But it was pretty clever. Dash sounds charming and it certainly honors the Kardashian name. Perhaps Chyna and Kardashian will opt to do something similar? Only time will tell.
"Renee" or "Renee-Blac"
Chyna's real name is, Angela Renee White. So it's possible that the Chyna-Kardashian parents to-be would like to pay tribute to Chyna's real name –especially since most people know Chyna as, Chyna or Blac Chyna.
"Kween" or "Kueen"
Again, work with me here. The "K" theme is strong in the Kardashian-Jenner family and Chyna did name her son King. So what better way to combine traditions on both sides, than some variation of the word Queen, but with a "K," of course.
According TMZ sources, Chyna is "several months along," but there's been no word from the couple other than their Instagram posts of a pregnant Chyna emoji. As more news on Chyna's reported pregnancy comes to light, I'm sure there will be a lot more speculation and guessing games about the baby's name and gender at birth. In the meantime, I think you should let "Kween" sink in.