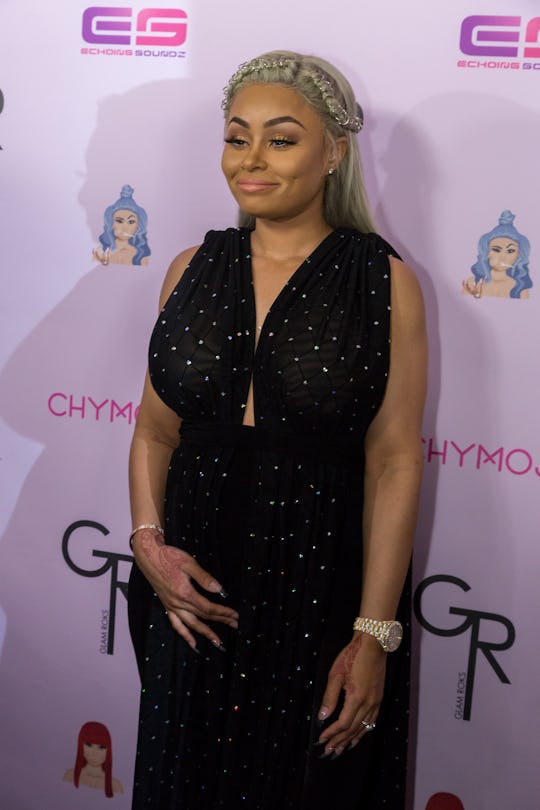 Greg Doherty/Getty Images Entertainment/Getty Images
Blac Chyna Says She'll Eat Her Placenta, Proving She's More Kardashian Than Ever
Blac Chyna might be waiting to change her name to Angela Kardashian until after she marries Rob, but her latest reveal demonstrates she may already be taking advice from the first family of reality TV. On this week's Play.It's Loveline with Amber Rose podcast, Blac Chyna said she would consume her daughter's placenta in pill form after the baby is born. The mother of 3-year-old King Cairo and future Mrs. Kardashian, who's due in November, also said she's made a point of being more educated with her second pregnancy. Chyna told pal Rose and fellow guest Dr. Chris Donaghue that:
Just reading and knowing the pros of breast-feeding for your baby, and just recently I found out some new, cool stuff about not cutting the cord and sending your placenta. You can get these pills to take them after to make you and the baby healthy.
Chyna's certainly not the first celebrity mom to espouse the benefits of eating placenta. Her soon-to-be sisters-in-law Kim Kardashian West and Kourtney Kardashian have both embraced the practice known as placentophagy, in addition to Mad Men actress January Jones, Top Chef host Padma Lakshmi, and The Big Bang Theory star Mayim Bialik.
Shortly following the birth of her second child with husband Kanye West in 2015, Kardashian West shared on her website that placenta pills helped treat her postpartum depression. "Every time I take a pill, I feel a surge of energy and feel really healthy and good," she wrote. "I totally recommend it for anyone considering it!" Sister Kourtney once described her own placenta capsules as "yummy."
Although it may seem like placenta encapsulation is just the latest post-birth celebrity trend, the practice of eating one's placenta actually dates back to ancient cultures and remains common among indigenous peoples — and it's been gaining traction in the United States for several decades, according to the American Pregnancy Association.
Consuming it in pill form seems to be the preferred method for celebrity moms, though placenta can also be eaten raw or turned into a smoothie. Whatever the consumption style, proponents of the habit say it:
Increases milk production;
Prevents postpartum depression;
Boosts production of oxytocin (known as the "love"or "cuddle" hormone) to help promote maternal bonding;
Strengthens iron levels in the blood; and
Improves energy.
However, a 2015 study at Northwestern University School of Medicine found no scientific data supporting the idea that eating placenta has actual benefits. What's more, the researchers noted there haven't been any studies on whether the practice poses potential risks. To date, there hasn't been a single double-blind, placebo-controlled human study on the effects of placentophagy.
If you're considering eating your placenta — or, like some mothers, planting the placenta to honor your baby's birth — know that some hospitals don't allow you to take the placenta with you after birth. Make sure you ask about their policy ahead of time and consult with your doctor (and, if applicable, your doula and/or midwife) about whether the custom is right for you. After all, while the Kardashian seal of approval might be enough for Chyna, you probably shouldn't base your health decisions on the advice of celebrities alone.