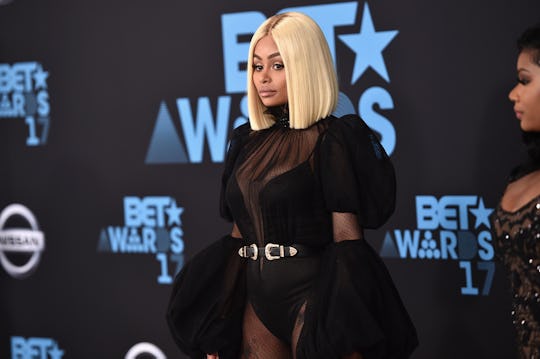 Alberto E. Rodriguez/Getty Images Entertainment/Getty Images
Blac Chyna's Mom Responds To Instagram Controversy
Last week, Rob Kardashian went on a social media tirade against his ex-fianceé, Blac Chyna, posting what appeared to be intimate pictures of her and accusing her in a series of text pictures of everything from taking drugs to infidelity. Chyna responded to the claims in several Snapchats, alleging that Kardashian hit her. Most of the Kardashian family has stayed silent regarding the incident, but on Wednesday, Chyna's mom responded to Kardashian's Instagram controversy with a few words of her own.
Chyna's mom, Tokyo Toni, posted a video on her Instagram account earlier this week saying that she would soon "speak on everything that's going on." In a black-and-white video, she said:
Hello world, this is Tokyo Toni, and I'm going to be sending a video out onto social media about Rob and Chyna, the Kardashians, the media, the lawyers, which will be Miss Bloom, as well as Rob Shapiro. I believe that I have all rights to say what I have to say. Why? Because I feel somewhat in the middle of what's going on and this isn't a good feeling for me. I try to remain silent because I was always told silence is golden, however, untrue. I want to speak on everything that's going on, I'm going to give my opinion, I'm going to give facts. Why? Because I'm Dream's grandmother, Chyna's mother, King Cairo's grandmother, and Rob Kardashian's ex-mother-in-law-to-be.
Toni's video came after Chyna was granted a temporary restraining order against Kardashian following his Instagram tirade. According to CNN, Chyna's attorney, Lisa Bloom, said all of their conditions had been granted, and Kardashian would be barred from seeing Chyna or posting about her online. Kardashian's attorney, Robert Shapiro, apologized on Kardashian's behalf and said they would now move forward to "do one thing and one thing only, what ever is in the best interest of the child."
Kardashian and Chyna are parents to 8-month-old Dream Renee, whom they now co-parent. The next hearing for their case will take place in early August. There's no word yet on exactly what Toni will say when she shares her views with the world, but chances are she will weigh in on Chyna's allegations that Kardashian abused her, the non-disclosure agreement Chyna reportedly signed with the Kardashians, Kardashian's Instagram controversy, and the case now playing out in court.
Hopefully, Chyna and her mom will be able to get out of the public eye for a while and enjoy some time with Dream as the situation develops. A split is hard enough without having to endure public scrutiny on top of it.