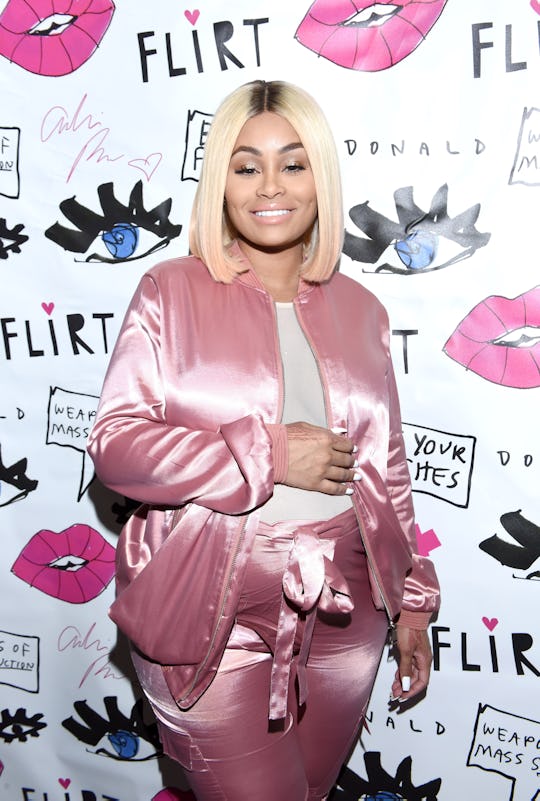 Vivien Killilea/Getty Images Entertainment/Getty Images
Blac Chyna's Portrait Of Her & Her Kids Is So Cute
Here's the thing, you simply cannot be a Kardashian baby and not light up Instagram every time someone takes a pic of you. Take little Dream Kardashian, for instance. At 2-months-old, her social media game is on point. And she doesn't even know how to use her own fingers yet... that's impressive. Every time we see a picture of that baby, the internet loses its mind for a minute. Take Blac Chyna's new portrait with her kids; it's super cute and sort of reminds me of the typical portrait studio shot, but it features her two adorable kids, so it's just way better.
The model and star of Rob & Chyna, the latest reality offshoot of Keeping Up With The Kardashians, is the mother of two. Her son with ex-boyfriend King Cairo is 4 years old, and baby Dream Kardashian (whose father is Rob Kardashian) is 2 months old. Chyna took to Instagram on Tuesday to share a fantastic old school-style portrait of her posing with her two children, and captioned the photo "Unconditional love." Rob Kardashian was notably absent from the picture; the engaged couple have been on and off for some time. But that hasn't stopped this beautiful mom from getting in a great glamour shot with her babies.
Baby Dream is killing it in a cute black sweater, while King Cairo is looking dapper in denim. Chyna also shared a Snapchat video of her little family enjoying some snuggle time. She captioned the video "My babies." Check out the way King Cairo is loving up on his baby sister and his mom (before getting bored and taking off, as four-year-olds are wont to do). I. Can't. Even.
While Chyna is clearly loving her time with her babies, she and Kardashian have been struggling. Their first anniversary was on Jan. 25, and Rob shared a sweet home video to celebrate "one year down" with Blac Chyna.
So what do these two conflicting social media posts mean? Are they together, or aren't they? Does Chyna's portrait with her kids signify her stance as an independent woman? Or did she just want a picture of herself with her kids?
It turns out, Dream's parents are trying to make things work. The couple have been back together since Rob was rushed to the hospital in December, and Chyna stayed by his side. They've been happily taking little Dream to her doctor's appointments, celebrating New Year's together, and generally enjoying life.
Sometimes a picture is just a cute picture.