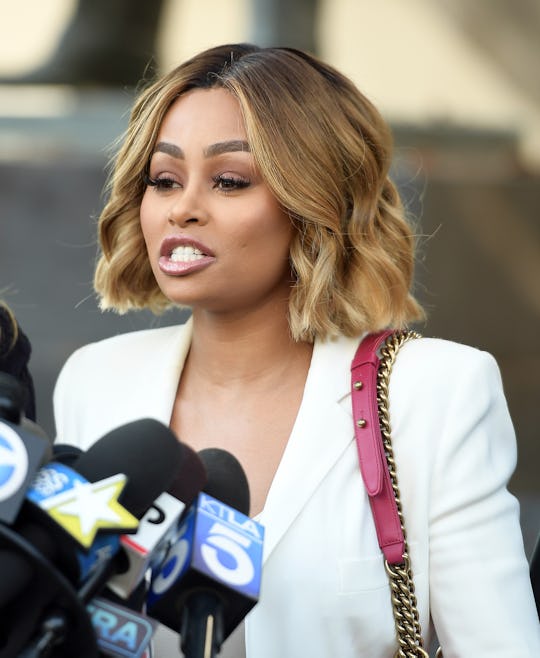 Matt Winkelmeyer/Getty Images Entertainment/Getty Images
Blac Chyna Speaks About Co-Parenting With Rob
Few parents trying to navigate the choppy waters of separating while sharing a child have an easy time of it. Things get said, feelings get hurt, life changes, and those changes don't always feel fantastic. It's tough enough trying to figure out child care in the "real" world, never mind the world of celebrities. So when Blac Chyna opened up about co-parenting with Rob Kardashian after he released those photos, it was a powerful statement about what's really important here: little baby Dream Kardashian.
As most anyone with the internet is aware, last week 30-year-old reality star Kardashian had an explosive social media meltdown. He shared nude pictures of Blac Chyna allegedly without her consent on Instagram (they were subsequently removed and his account was suspended) and attacked her character in several diatribes. For her part, model Chyna accused Kardashian of being physically abusive with her in a Snapchat post. (Romper previously reached out to both parties for comment on the allegations but did not immediately receive a response.)
The fallout of Kardashian's massive outburst lead to Chyna retaining a lawyer and filing for a restraining order against him, barring him from coming within 100 feet of her or posting any of her images online (she was granted the temporary restraining order by a California court on Tuesday). Chyna has also recently claimed that Kardashian was abusive with her in April in front of her 4-year-old son with rapper Tyga, King Cairo, though Kardashian has not responded to those unconfirmed claims. But despite the stress, cyber-bullying, and alleged abuse Chyna has dealt with, she reportedly has no intention of barring Kardashian from seeing their daughter.
According to The New York Daily News, 29 year old Lash Bar owner Chyna was interviewed on ABC's Nightline in the wake of her recent struggles with Kardashian and said she would "never" keep Kardashian from his daughter. When ABC's Linsey Davis reportedly asked Chyna, "How will you go forward co-parenting Dream with Rob without animosity?" she responded:
Hopefully, you know, me and Rob can learn, you know, to have common grounds and be the best co-parents as we can be. And that's all I can really ask for.
The couple's young daughter was born in November of last year, following the couple's whirlwind relationship, which began in January 2016. Now, following the most recent round of drama, L.A. Superior Court Commissioner James E. Blancarte has granted a motion for nannies to continue shuttling Dream back and forth between her parents, and said it would be up to them to arrange visitation schedules that worked for everyone involved.
Considering all the couple has been through, Chyna's decision to continue co-parenting with Kardashian should give even her harshest critics a moment's pause. Because whatever anyone thinks of her, she has put the welfare of her child first.
It couldn't have been easy. And she deserves a little credit.