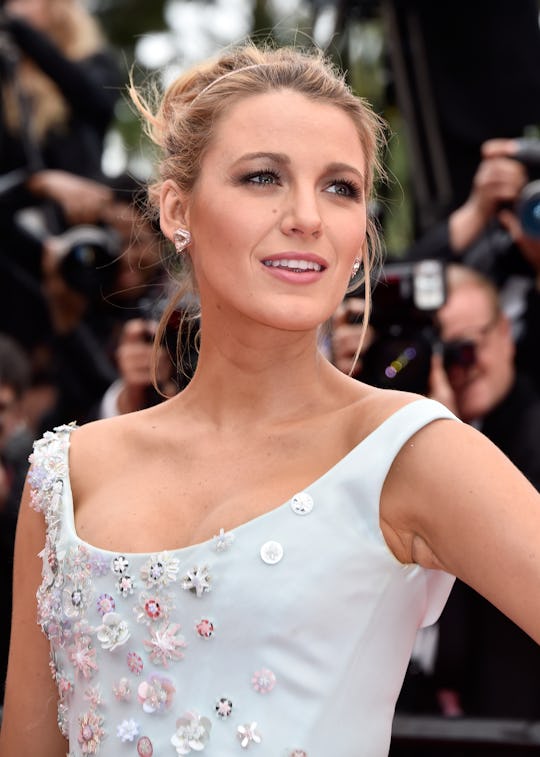 Pascal Le Segretain/Getty Images Entertainment/Getty Images
Blake Lively Defends 'Booty' Comment & Gets Real About Body Image
Nobody looks like Blake Lively. Not even Blake Lively. This is what the actress, famous for Gossip Girl, The Sisterhood of the Traveling Pants and being impossibly beautiful, wants young women to know. When she recently sat down with Shade 45's Sway Calloway, Lively also defended her infamous "booty" comment and got real about body image, in Hollywood especially.
Lively was making the rounds at the Cannes Film Festival back in May with her pea-in-a-pod baby bump and jaw-dropping array of couture gowns. She was promoting her new Woody Allen movie Café Society as well as her upcoming horror movie, The Shallows. Lively was clearly reveling not only in her career but life in general, smiling happily for the cameras awash in French sunshine (that looks so much better than North American sunshine) and seemingly drifting from one show-stopping look to another. Lively was the darling of the internet (as well as the darling of one of our other faves, her husband Ryan Reynolds) and life was looking grand. Until she decided to conjure a little Sir Mix-A-Lot. And you know that always spells trouble.
Lively subsequently posted an Instagram pic of herself from behind in a gold gown with the unfortunate caption "L.A. face with an Oakland booty" — and the internet sort of lost its mind.
Social media critics took umbrage with Lively's use of Sir Mix-A-Lot's lyrics from his classic "Baby Got Back", which had some crying cultural appropriation.
After staying silent on the subject throughout the controversy, Lively is finally defending her words and explaining the intention behind them. According to People, Lively was trying to focus on a little body positivity. "It's something I was proud of. I never meant to offend anyone," adding, "I was celebrating my body, it's nice to have a nice curve and not look like you're starving to death."
Lively went on to thank Sir Mix-A-Lot himself, who recently leapt to the defense of her booty in a ringing endorsement to The New York Daily News.
"I don't think she'd wear that dress if she thought that booty is horrible — and to me, it ain't horrible, I don't get it at all," he said. "She's saying she's proud of her butt. I'm glad she embraced the look, because that's what I wanted (with the song)."
Lively is, indeed, proud of her butt, and further still, she wants to remind fans that the butt they are seeing is not exactly reality. Her red carpet looks are idealized versions of her as an actress, and not necessarily representative of the woman she is every day. In that same interview with Shade 45, she said,
It's also unfair what you see in the media so much. What I look like on a red carpet is not what I look like in real life. Even in that dress, I'm wearing a great, tiny corset that like someone has cinched me in within an inch of my life and it's the most favorable version.
She continued with a message for us regular ladies that I might print off and tape to my mirror as a gentle reminder later:
So when you look at yourself in the mirror at home and you don't look like that, you think, "Well, why do those people look like that?," but when I go home and take off that dress and look in the mirror, I don't look like that either. It's fun to dress up and look good on the red carpet but it's not representative [of everyday].
So just remember... none of us can look like Blake Lively. Not even Blake Lively.