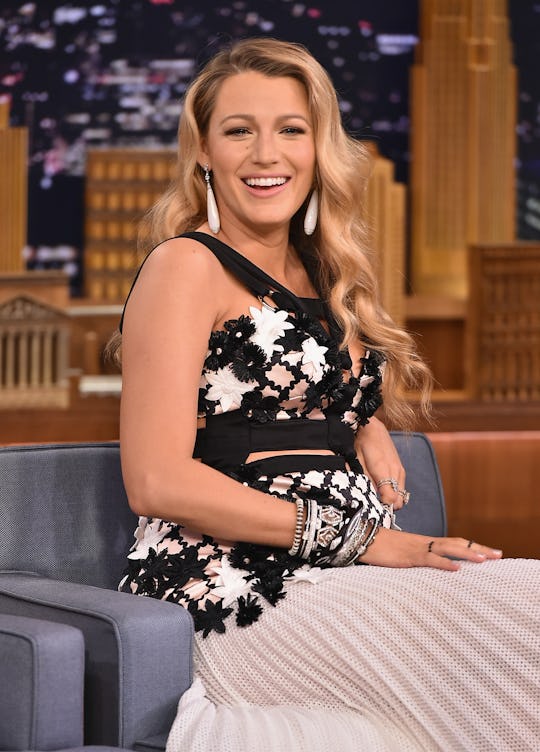 Theo Wargo/Getty Images Entertainment/Getty Images
Blake Lively Gets Honest About Pregnancy, & This Isn't The First Time She's Spoken Up
It's no secret now that Blake Lively has the fabulous celebrity mom role down to a T. But, even with all of the glitz and glamour, she still deals with many of the same pregnancy struggles and parenting challenges all other moms go through. In a recent interview with Jimmy Fallon on The Tonight Show, Blake Lively gets honest about pregnancy and this isn't the first time she's spoken up. The 28-year-old actress, who is expecting her second child with her husband Ryan Reynolds, hasn't been shy to tell the media in the past what it's really like to be pregnant and she continues to say what all moms are thinking and feeling.
On Friday night, Lively filled in The Tonight Show audience on how she's handling her second pregnancy in scorching summer weather. "It should be illegal to be pregnant in New York in July," she joked with Fallon. "I'm going to make my water break just to cool down."
"Everybody says 'how are you feeling?' but they don't really want to hear how you're feeling," the blond mama continued to tell Fallon. "They don't want to sit there while you complain, so you guys get to sit here while I complain."
The Gossip Girl alum gave birth to her first child, one-year-old daughter James, on Dec. 16, 2014. While Lively was pregnant, she talked about how her style choices are a bit slimmer as her baby bump continued to grow, even if she has a glamorous team of stylists.
Back in October 2014, Lively spoke with Extra! about her budding belly as she made her way into the Golden Hearts Awards in New York. When asked what went all went in to her fashion choices for the evening, she jokingly replied, "Whatever will zip. It's a pretty easy decision."
As for pregnancy cravings, The Shallows star hasn't admitted to wanting anything specific or different than usual, but teased that it's a great excuse to indulge in whatever an expecting moms's heart desires.
"We just lie," Lively told Extra! in October 2014 on the red carpet for the Angel Ball. "It's a perfect way to get what you want all the time. You want chocolate ice cream at midnight, you have a craving!"
As for after pregnancy, since becoming a mom Lively has opened up about how much life changes and how differently you think after you become a parent.
"Everything is different," Lively said in an interview on Live! With Kelly and Michael in April 2015. "You see a balcony and you're like, 'Oh God, the hotel needs to demolish this balcony because my child can't go anywhere near it.' So, everything is just like, so much more heightened. We're crying all the time for no reason."
Given all the pregnancy challenges and life changes expecting moms go through, the soon to be mom-of-two seems like she can joke about and relate to moms everywhere about some of these tough moments.