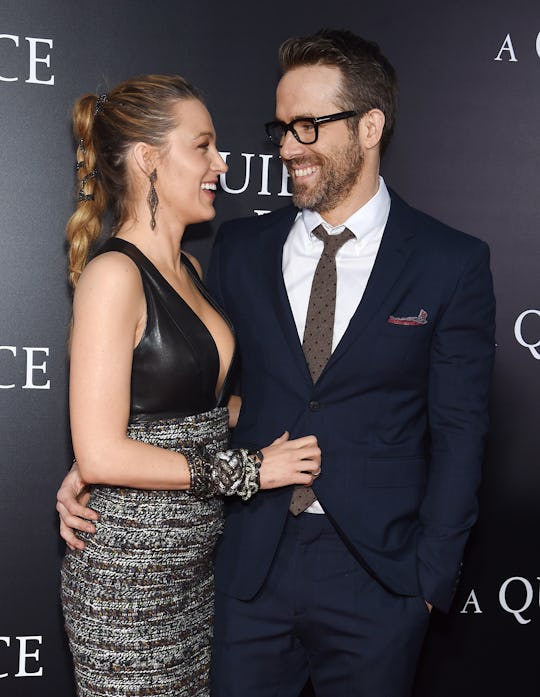 Jamie McCarthy/Getty Images Entertainment/Getty Images
Here's Yet Another Reason Why Blake Lively & Ryan Reynolds Are The Definition Of #CoupleGoals
Some couples celebrate their anniversaries by following those old traditions — you know, paper on the first anniversary — and some couples do something lovely but typical, like go out to a romantic dinner or take a cruise. Not Hollywood's hottest power couple, though. Nope, Blake Lively and Ryan Reynolds celebrated their wedding anniversary the usual way... with some hilarious trolling.
You see, this couple seems to like nothing more than poking fun on their respective social media accounts, and because they are naturally comedic, these joke-offs are always epic. Really, no one in their inner circle appears to be off limits, from their parents to siblings and friends... and even Paddington Bear.
But the two people this adorable couple seems to enjoy ribbing the most are each other. So just in time for their sixth anniversary this past Sunday, (traditionally one for sweet candy or strong iron items, according to style and relationship site The Nest), the celeb duo sprang into action.
"Turns out the driver really doesn't carry cash. But he DOES carry pepper spray... and a sh*tload of @aviationgin #Aviationowner," Reynolds wrote last week, just ahead of their anniversary on Sept. 9, as Entertainment Tonight reported. The snap shows a truck plastered with a picture of him holding his new brand of gin.
To which Lively replied in the comments section on Instagram: "Who needs a mini van?! I'm driving this from now on," she promptly wrote back, adding: "Subtle, gorgeous, and OHMYGAWDYOUREHUGE."
And yet again, Blake Lively and Ryan Reynolds are the definition of #CoupleGoals.
Now this is hardly the first time the two had a little fun with each other via social media with some friendly roasting and trolling. There was also the time that Reynolds wished Lively a happy birthday on Twitter by posting a photo of them together on the red carpet, as Hello Giggles reported at the time; only he cropped out the majority of his wife's face:
To which she had her own revenge a couple months later on her husband's birthday, using Reynolds' so-called "frenemy," Ryan Gosling:
What I love about Lively and Reynolds is that they are in a phase of their lives that can be very stressful (they have two little ones at home — 1-year-old Inez and 3-year-old James — in addition to a full plate of work projects, according to Entertainment Tonight). But they still make the time to just laugh at it all and not take life so dang seriously. It also makes them enormously popular with their fans.
For example, you might recall that time when Lively joked about "cheating" on Reynolds with Anna Kendrick, her co-star in this month's thriller A Simple Favor, back in June:
This simple and hilarious exchange on Instagram is just one of the many reasons why fans love Lively and Reynolds. They seem to have worked out a formula where they enjoy life, are aware of their blessings, interact with fans and function well without letting fame get the best of them.
Happy Anniversary, guys. I, as well as your legions of fans, look forward to all your future practical jokes.