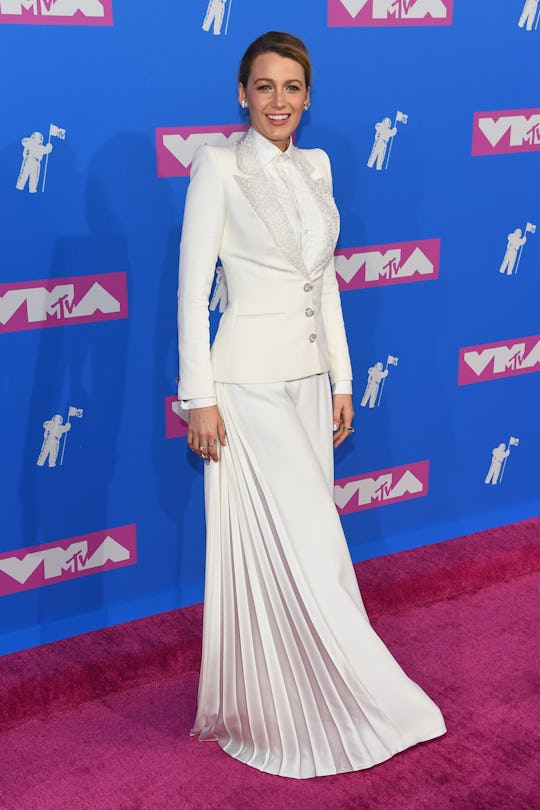 Nicholas Hunt/Getty Images Entertainment/Getty Images
It Turns Out That Even Blake Lively Finds "Instagram Moms" Totally Intimidating
There's nothing quite like social media to make you feel completely and totally inferior about your completely average-looking life, and honestly, as a mom, I'm often baffled at how many women on Instagram seem to be effortlessly raising well-dressed, beautiful kids in trendy, all-white homes, while somehow looking impossibly stylish themselves. But you don't have to be a "normal" mom to find that internet subculture totally intimidating: it turns out that Blake Lively isn't a fan of Instagram-perfect mommy bloggers either, and her rationale is *so* reassuring.
As far as celeb moms go, Lively seems like she could probably easily qualify as an "Instagram mom" if she wanted to: while the mother-of-two prefers to keep her children out of the spotlight, she certainly seems to live the type of enviable, glam, lifestyle that would make for amazing lifestyle blogging. But Lively told People that, actually, she considers most mom blogs to be "one of the greatest brands of humor," and told the magazine that the "images of people in their idyllic lives... leave [her] like, 'I'm just a terrible parent and don't have it figured out at all.' And while that still feels a bit hard to believe, Lively said she does try to keep one very important thing in perspective when looking at moms on social media. She said, "I love thinking about what their house looks like in the image, and then thinking about what it actually looks like behind that perfect shot."
Setting aside the fact that basically every shot on Lively's own Instagram account looks like the perfect shot, the actress definitely has a point. At a time when being an Instagram celebrity is actually a legitimate, income-earning, career option, it can be easy to see these women and wonder just how it is that they happen to make motherhood look so easy. But, as Lively notes, the final photos that actually get posted probably look far from their everyday reality — in addition to being edited and filtered, the images are almost certainly specifically posed, and likely not nearly as carefree or candid as they might appear to be.
But Lively's recent comment isn't even actually the first time she's expressed her opinion on mom bloggers. During a 2016 appearance on Late Night With Seth Myers, Lively (who was then pregnant with her second child), spoke about how becoming a mother herself opened her eyes to just how artificial the mommy blog world can actually be. She explained:
There's this lady on Instagram who I used to love to watch, her name is Old Joy, and she just made having a baby look lovely — everything is white, and she always has a fresh blueberry pie and it's steaming, and scones and clotted cream. And she's reading Old Man and the Sea ,and her little boy was roll-y with bonnets, just sleeping while knitting... it's amazing.
But when Lively became a mother herself for the first time? Well, she says it all became clear that that wasn't exactly an attainable goal after all. Lively joked, "my kid is playing with like, explosive devices. I don't know where she's found them... she already knows how to drywall because she puts holes in the wall." And when Myers agreed that the proliferation of accounts that promote the idea of a "perfect, new-mother world" are "cruel and unusual," Lively joked that she went from loving Old Joy blogger Kristen Mittler "to wanting to kidnap her so that she [wouldn't] post anymore torture for [her.]"
To be fair, even Mittler herself has acknowledged that her popular Instagram account doesn't always show all the aspects of her life, and earlier this year she even shared a photo of her cluttered living room, and wrote, "I wanted to share this, but didn't because I'm like no one wants to see your messes," and admitted that she "[hadn't] really seen [her] floors" in a while since there is "always toys all over the place." But, given that those kinds of posts can be rare for popular mombloggers to share — and given that Lively is already someone who leads such an enviable life — the actress' honesty is so incredibly relatable.
Then again, despite the fact that she is beautiful, talented, and one-half of one of the most beloved Hollywood couples with hubby Ryan Reynolds, Lively hasn't ever really shied away from poking fun at her own image. And though the star is careful not to share too much of her personal life on social media, it's actually really comforting to know that, if we could get a glimpse into Lively's everyday mom-life, she'd probably have a cluttered, toy-and-laundry-filled living room, too.