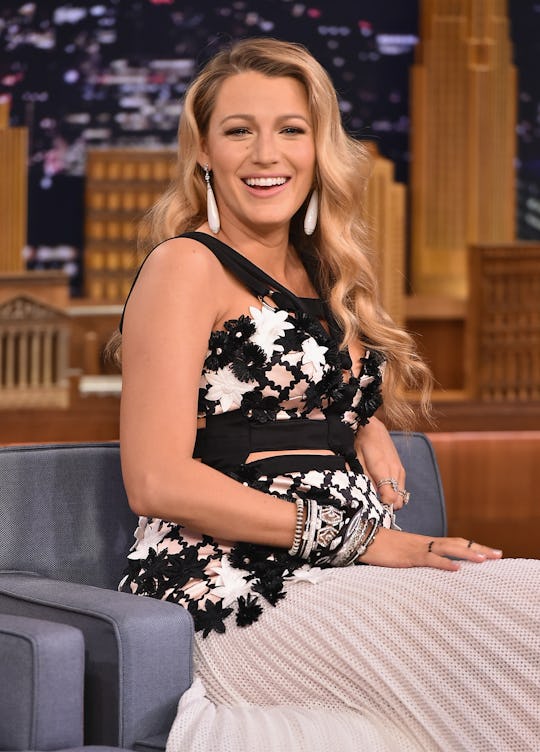 Theo Wargo/Getty Images Entertainment/Getty Images
Blake Lively Says Postpartum Bodies Should Be Celebrated In Any & Every Form
On Monday, actress Blake Lively appeared on the Australian morning show Sunrise to talk about her new surfer horror film, The Shallows, which opened in theaters in June. Host Nelson Aspen remarked about Lively's incredible post-baby body turnaround as she prepared for her physically-demanding role in The Shallows, just months after the birth of her first child. Lively shared that she underwent a rigorous training regimen to get in shape for her role, having just given birth to a daughter, James, in December 2014. The 28-year-old actress used the opportunity to talk candidly about the issue: Blake Lively said postpartum bodies should be celebrated, not shamed.
"It's so unfair though, because it's so celebrated," Lively said of postpartum body perfection after Nelson praised her own post-baby body bounce back. "It's like, this is what someone can look like after a baby. I think a woman's body after having a baby is pretty amazing." She continued:
You don't need to be Victoria's Secret ready right away because you just did the most incredible miracle that life has to offer. I mean, you gave birth to a human being! So I would really like to see that celebrated.
It's no secret that Hollywood pretty much starts a timer on how quickly a celebrity will "snap back" after the birth of a child. But that timer also exists in the minds of plenty of moms too, celebrity or otherwise. But Lively's not having it.
While best known for her roles on Gossip Girl and in Green Lantern, Lively is also quite the fashionista, frequently posting her best fashion finds on her Instagram. In April, Lively revealed she is pregnant with baby No. 2 with husband Ryan Reynolds. Lively's chic pregnancy style has often been catalogued by fashion mags — and her body, whether postpartum or pregnant — is under just as much media scrutiny as the clothes that drape it. Even with such a tightly focused public lens on her body, Lively's statements about postpartum bodies are refreshing and empowering all the same.
Lively isn't the first celebrity to come under fire about how she looks after having a child. In May, model Chrissy Teigen faced the wrath of Instagram when she posted a photo of her wearing a crop top on Mother's Day, just three weeks after giving birth to daughter Luna. The comments that followed were a strange mix of not only shaming Teigen for having the audacity to show off her post-baby body, but that she "snapped back" as quickly and stunningly as she had. Even other celebrities weighed in, too:
Ultimately, it's important to remember that women like Lively and Teigen are the exception to the beauty gene pool — they've won Darwin's lottery when it comes to good looks and just how quickly their bodies are able to recover from birth. Oh — and let's not forget the oodles of money that celebrity mamas can dole out to personal chefs, trainers, and spas to aid in their postpartum body shaping — and more power to them, to be perfectly honest. The reality is that celebrity moms have far more resources than most moms when it comes to postpartum recovery.
Lively gets that, and her message that there's no need to rush into immediately dropping the baby weight is an important one for all moms everywhere. She thinks it's more important to bask in the miracle of what a mom's body has just achieved and not how her body looks — and I have to say, I completely agree.