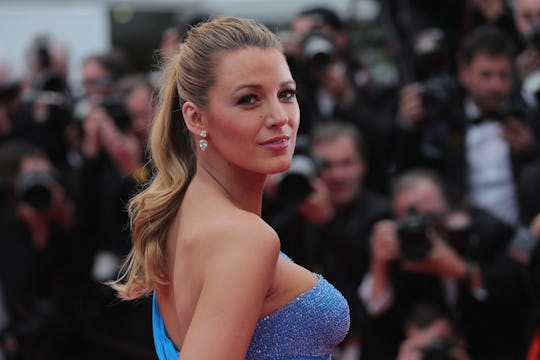 Neilson Barnard/Getty Images Entertainment/Getty Images
Blake Lively Shows Off Her Baby Bump At Cannes Film Festival
Looking like a modern day Disney princess, Blake Lively showcased her budding baby bump in a form-fitting baby blue sparkly gown at the Cannes film festival on Saturday, May 14. The internet understandably flipped out when reports of the actress' second pregnancy hit headlines last month and even more so when she flaunted her amazing looks and growing pregnant belly this week. Lively is expecting her second child with hubby Ryan Reynolds.
The soon-to-be mom of two looked stunning in the sparkly, one shoulder gown with a thigh-high slit and long train topped with a slick ponytail at the premiere of the new fantasy family film The BFG. The internet is loving Lively's baby-bump style at the French film festival, making those unofficial pregnancy reports from last month official. Social media has been pleasantly surprised by Lively's style so far this week since the Age of Adaline star camouflaged her growing pregnant belly at the recent Met Gala in New York.
Rumors of a second pregnancy began when photos of Lively on the set of her upcoming film The Shallows, sporting an adorable baby bump in a wetsuit began circulating the internet last month, leaving many to speculate when she would be due to deliver baby number two. According to E!, both of the stars' reps haven't confirmed a due date yet.
The Hollywood duo has always tried to keep their personal lives underwraps. The couple welcomed their first child, daughter James, in December 2014, but didn't reveal her actual birthdate until a year later.
No photos have been shared of baby James yet, but Lively shared this Instagram post with us on the "perks of breastfeeding," and she joked about how messy motherhood can get as she flaunted the rice stuck in her hair.
While the Internet was understandably overwhelmed by news of baby number two, it wasn't a secret that the actress would love to have a big family one day. Lively opened up in a interview with Marie Claire magazine before the birth of her first daughter and joked that she wants 30 kids.
"If I could spit out a litter of kid, I would," the Gossip Girl alum said in the 2014 interview with Marie Claire.
Her hubby seems to feel the same way. In a February interview with People, Reynolds talked about the joys of fatherhood and how he "can't get enough" of having a daughter.
"If I could have nine daughters, I would be thrilled," Reynolds said in the People interview. "Really, like I genuinely would be."
That's great news for everyone. Even better, Lively isn't letting pregnancy get in the way of her career or style as she shut down any traditional expectations for maternity attire with her looks at the film festival this year. The world can't wait the Hollywood couple's next bundle of joy and possibly an even bigger family in the future.