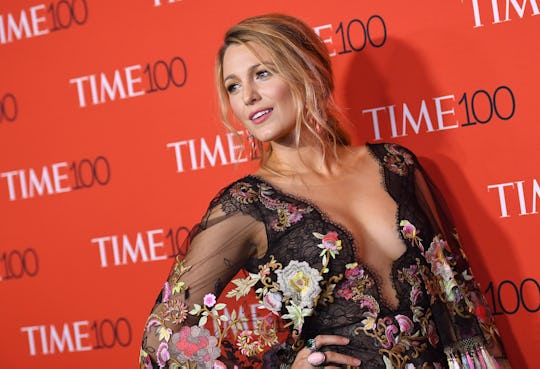 ANGELA WEISS/AFP/Getty Images
Blake Lively Worried About Facing This Sexist Trope By Standing Up For Herself In Hollywood
I'm not sure why so many women have always wanted to be seen as pleasing and polite. It's something we've been socialized since birth to do, I suppose — a deeply ingrained subconscious need to be perceived as easy to get along with, as malleable, as sweet, I guess. I know I'm wildly generalizing, but as a woman myself and friend to many other women, I think I might know a thing or two about this desire to be seen as anything but difficult. I'm not the only one, of course. Even Blake Lively was worried about being labeled with a sexist trope as a young actress in Hollywood, because that's the way it has often been for women in the workplace.
In a recent interview with People, The Shallows' actress opened up about struggling in the early years of her career with standing up for herself or asking for what she wanted because she was worried she might come across as a "diva." She told People that, while she always felt perfectly comfortable defending the rights of others, when it came to having the same expectations for her own rights she struggled to say anything. Why?
I didn't feel like I could fight for myself in the same way, because I was afraid of coming across as a diva or difficult or demanding.
That old sexist trope of labeling women as "difficult" or, perhaps even worse, "a diva" has been a well-established way of keeping women from asking for what they want for centuries. It has been used as a blanket response to any behavior deemed less than savory, or even simply because they might have said "no" to something, which is more difficult for women in the workplace than it is for men, according to Business Insider. As Lively noted in her People interview:
As a woman, you're afraid of a label you may acquire by demanding fair treatment for yourself that you know that you've earned.
Of course, Lively started in show business at a very young age. She acted in her first film at the age of 10 (directed by her father), and became an international sensation at the age of 17 when she starred in 2005's The Sisterhood Of The Traveling Pants. Within two years, she began starring in Gossip Girl from 2007-2012, and became a star with serious clout. Still, that's an awfully young age to be expected to speak up for yourself, but especially as a woman raised in a world that doesn't teach women to stand up for themselves — and even punishes them for it if they do.
Things have changed since then. Sure, Lively is still happy to step in to speak up for others, but as a more seasoned actress (not to mention mother to two daughters, 2-year-old James and 1-year-old Ines), she would offer this piece of advice to her younger self, according to People:
I'd encourage myself to love myself and fight for myself, as hard as I fought for other people.
Happily, the tides might be turning for more women than Blake Lively. Last year, two "difficult" women of note were chided publicly by men in power. Former Democratic presidential candidate Hillary Clinton, who was called a "nasty woman" during a presidential debate with President Donald Trump. And British Prime Minister Theresa May, who was called a "bloody difficult woman" by Tory MP Ken Clarke.
While Clinton followers and women of all kinds took up the torch and happily declared themselves "nasty women" in the wake of Trump's juvenile and sexist insult, May has capitalized on her status as a "bloody difficult woman," indeed even embraced it as a way to strike fear in the hearts of her detractors. During a recent meeting to discuss Brexit with EU Commission President Jean-Claude Juncker, May noted publicly that Juncker would be the next person to find out what a truly "bloody difficult woman" she can be.
There is no shame in being difficult or a diva, if that definition involves having the knowledge and strength to ask for what you want. It's great that Lively came to that realization while her daughters are still young, and she can help them become difficult women in their own right.
Watch Romper's new video series, Romper's Doula Diaries:
Check out the entire Romper's Doula Diaries series and other videos on Facebook and the Bustle app across Apple TV, Roku, and Amazon Fire TV.