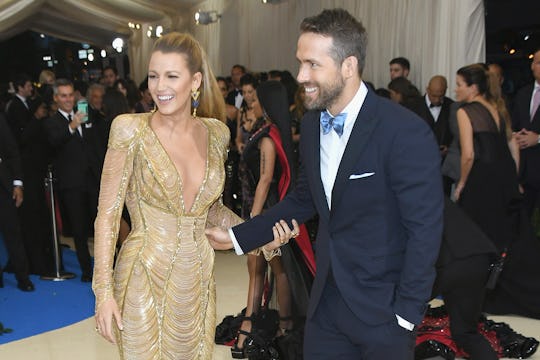 Dia Dipasupil/Getty Images Entertainment/Getty Images
Blake Lively's Daughter James Has Hilarious Halloween Ideas For Her Sister
This year, acting powerhouse couple Blake Lively and Ryan Reynolds are celebrating their second Halloween as a family of four. Big sister James, 2-and-a-half, and Inez, 1, are gearing up for the fun-filled holiday — and apparently, there has been a wide range of ideas thrown around for what the sisters should wear. In fact, Blake Lively's daughter James has hilarious Halloween costume ideas for her sister Inez, and it's too cute.
"My daughter suggested that our youngest should be Mike Wazowski, so I thought, 'Great, we are all going to get to be different characters from Monster, Inc.,' " Lively told People. "But then she suggested the baby be Mike and that she gets to be Cinderella."
A beautiful princess with a long, flowing dress and a green, one-eyed monster? LOL. Clearly, James already has some ideas of who the alpha sister is in the family. The imaginative toddler had a few other costume suggestions up her sleeves, too, according to her famous mama. Lively told People:
Or that she gets to be Moana and the baby gets to be Hei Hei. Or she gets to be Anna, and so you would think the baby gets to be Elsa. No, the baby gets to be the gecko from Tangled. Basically, the baby gets to be the goofy animal sidekick, while our daughter gets to be the princess.
You have to admit this much: A 1-year-old dressed as a chicken pretty much wins Halloween, regardless of who her sister goes as. Case and point: Jimmy Fallon's daughter, Winnie, back in 2013.
And hey, you have to give it to the girl: James knows what she wants. In her defense, I'm sure baby Inez would be totally cool with being an animal sidekick to her big sister's princess. Because from my experience, younger siblings pretty much adore their big brothers and sisters at that age. (Plus, candy of course.) Give it another six months or so, and Inez might have her own opinions about Halloween.
The Reynolds sisters aren't the only celebrity kids to get in on the quirky Halloween costume fun this year. Us Weekly has compiled an impressive list of adorable celeb kids' costumes through the years. For 2017, Busy Phillips' 9-year-old daughter, Birdie Silverstein, channeled her mom in this hilarious get-up.
For a visit to a pumpkin patch on Oct, 12, Lauren Conrad dressed her 3-month-old son, Liam, as a lamb. Too freaking cute!
Through the years, even, there have been some pretty epic family costumes in the celebrity realm. Here's Beyoncé, JAY-Z and Blue Ivy rocking a regally-themed costume set back in 2015.
Another gem from 2015 features Alyssa Milano's brood sporting costumes from the movie, Despicable Me. (Except for, you know, the sparkly unicorn she's holding.)
In 2014, Kim Kardashian shared a photo of North on Instagram — who was, hands down, the cutest skunk I've ever laid my eyes on.
Every year, I ask my own kids what they'd like to dress up as for Halloween — and every year, I attempt to gently steer them in a doable direction. Usually, if I can order it through Amazon Prime, it's fair game. My 6-year-old son and 3-year-old daughter decided to go as Poppy and Branch from the move, Trolls. (Because we've basically watched it every single day for the past three weeks.) We also bought a rainbow wig for our 18-month-old daughter to dress up as the character, Lady Glitter Sparkles. Except, the little booger wouldn't leave it on her head. So breaking the theme, we ended up re-using a costume for a 18-month-old: She went as Peppa Pig. Sometimes with little ones, you gotta improvise.
I can't wait to see even more celeb kids' Halloween costumes as Oct. 31 approaches. Hopefully, either Blake Lively or Ryan Reynolds shares a photo of what their daughters' ultimately decided to wear. Because I have a feeling they're going to be adorable no matter what costumes made the cut.
Check out Romper's new video series, Romper's Doula Diaries:
Check out the entire Romper's Doula Diaries series and other videos on Facebook and the Bustle app across Apple TV, Roku, and Amazon Fire TV.