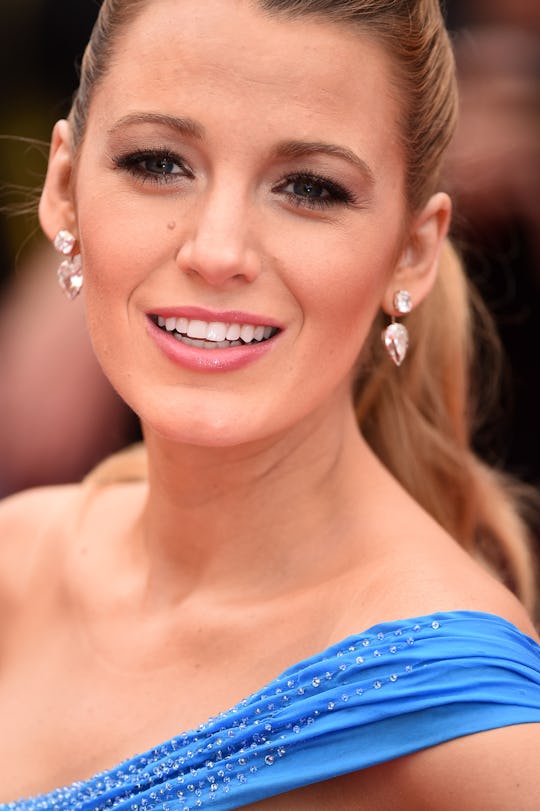 Ian Gavan/Getty Images Entertainment/Getty Images
Blake Lively's Views On Bringing Her Daughter Into The Spotlight Are Refreshing
Blake Lively is a nurturer and proud of it. Even before she became a mom to daughter James Reynolds with husband, Ryan Reynolds, she loved taking care of people. Because that's just how she rolls. She loves to bake, loves spending time with her husband and her daughter, and is plenty excited about baby No. 2 on the way. But how does she feel about raising her family in the public eye? It turns out Lively's views on bringing her daughter into the spotlight are totally refreshing, which shouldn't surprise anyone about this super intuitive mom.
Lively is enjoying a particularly busy career these days. Between her recently released shark thriller The Shallows (saw it; well, mostly heard it and hid my face in my hands, but from what I saw it was amazing), and the latest Woody Allen outing, Café Society. She has been swirling her way through one premiere after another in drool-worthy gowns and perfect, beach-y hair. But just because Lively has chosen a life in the spotlight doesn't mean she expects her daughter to do the same. In an interview for the August issue of Marie Claire UK, Lively addressed the issue of exposing her daughter James to public scrutiny.
My husband and I chose a profession and a side effect of that is your personal life is public. Our child hasn't had the opportunity to choose whether or not she wants her personal life to be public or not. So in order to give her as much normality as possible, we want her to have a childhood like we had. So we can't really throw her into the lion's den that is L.A., not that we really want to.
Lively and Reynolds have both seemed to master the ability to remain accessible to their fans while maintaining their privacy. They are whizzes at social media, with solid Instagram and Twitter accounts that keep the public talking about them more than they probably should (But her outfits! And he's so funny!).
They clearly work hard for their careers, promoting their recent films on the red carpet and off like true professionals. And though both parents are generous enough to discuss their parenting in interviews and online, don't expect to see pictures of their daughter (or of their impending second baby) any time soon.
It's actually a rather brilliant scheme, isn't it? Fans have heard Lively gushing over her daughter and read Reynolds' hilarious tweets on parenting, which helps them to feel invested. Enough so that nobody appears to be breaking down the door, demanding pictures of little James Reynolds (And if they are, they should stop. That's rude).
Here is what we know for sure about James Reynolds: her name is on point; her mom and dad love her to distraction; and they are determined to give her an amazing childhood out of the spotlight, until she chooses to enter on her own.
Lively, you crafty, talented person — must you be good at everything?