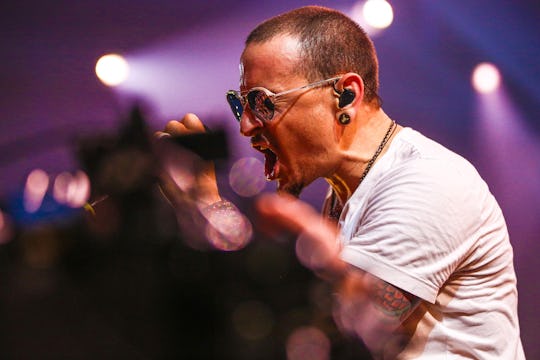 Rich Fury/Getty Images Entertainment/Getty Images
Blink-182 Responds To Chester Bennington's Death
Summer 2017 was meant to be the summer of Blinkin Park. Two iconic bands from the '90s, Linkin Park and Blink-182, were planning on touring together this summer and making every millennial's dream come true. Unfortunately, it's not to be. Chester Bennington, the lead singer of Linkin Park, died on Thursday in an apparent suicide. And Blink-182's response to Bennington's death feels like a closed door on a time that won't ever quite come back.
The two bands were set to perform together in a mini tour called "Welcome To Blinkin Park" as co-headliners. The mini tour had two dates scheduled; one on July 28 in Flushing, New York, and the next on July 30 in Hershey, Pennsylvania. Those dates were set before the tragic events of Thursday, when 41-year-old Bennington killed himself by hanging. In the wake of his death, his Linkin Park band mates cancelled their tour, with their promoter Live Nation issuing a statement on Friday, according to Rolling Stone:
We are incredibly saddened to hear about the passing of Chester Bennington. The Linkin Park One More Light North American Tour has been canceled and refunds are available at point of purchase. Our thoughts go out to all those affected.
Now it seems Blink-182 has decided to cancel their leg of the tour as well. The band released a statement on their official Twitter account announcing their plans to cancel their tour after being "wrecked" by the loss of their friend.
Linkin Park has yet to release an official statement about Bennington's death, which came partway through their One More Light world tour in Palos Verdes, California. Members of both bands have taken to social media to share their grief over the loss of their friend, including Blink-182's drummer Travis Barker.
Mike Shinoda of Linkin Park also shared a brief tweet after hearing the news of his friend's suicide.
It's a sad end to what looked to be a promising summer for the two bands, who had already reunited for a Funny or Die skit in May called "A First Date."
Chester Bennington seemed to struggle with his own demons. He reportedly suffered from depression and substance abuse, and was deeply affected by the loss of his good friend Chris Cornell of Soundgarden in May, who also took his own life. In fact, Bennington died on what would have been Cornell's 53rd birthday.
But he left behind a legacy of music, of friends who are not willing to take the stage without him. And fans who feel bereft, thinking of what could have been.