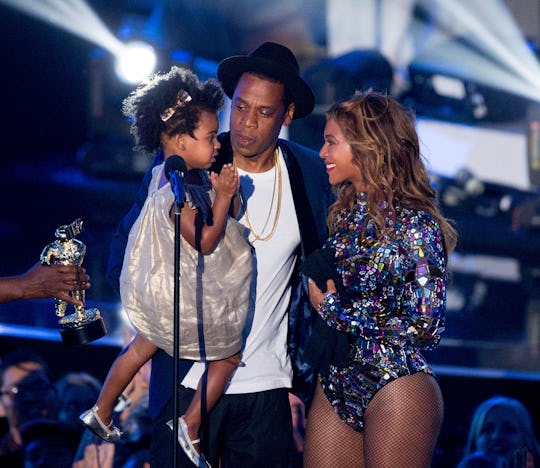 Robyn Beck/Getty Images Entertainment
Blue Ivy & Apple Martin Are At The Super Bowl, Gwyneth Paltrow's Instagram Hints
Are you ready for the cutest thing this Sunday? It looks like Gwyneth Paltrow and Beyoncé's girls are ready for the Super Bowl — with some fierce jackets. Paltrow posted the following photo of Blue Ivy and Apple at the Super Bowl, which will surely break the internet before the game even begins. The two (ridiculously cute) kids walked hand in hand in the picture, making Apple Paltrow look like Blue Ivy Carter's big sis and BFF.
Both tots have parents who will be playing at the halftime show. Blue Ivy's mother will be killing it — hopefully with "Formation," whose video Blue Ivy actually starred in — as the world looks on. Apple's dad and Gwyneth Paltrow's ex-husband Chris Martin will be taking on halftime with the rest of his band, Coldplay, and likely playing "Hymn for the Weekend," which Beyoncé's vocals feature prominently in. Good combination for halftime? Good combination for halftime.
Hopefully Gwyneth Paltrow will be supplying us with more aww-worthy pictures throughout the night, because this cuteness squared will add another great aspect to the Super Bowl. Take a peek at Apple Paltrow, 11, and Blue Ivy Carter, 3, below, rocking their colorful and Super-Bowl-ready jackets.
The two tots have been pretty busy in recent weeks. Apparently, Apple took some time out of her busy schedule to pump her dad up for his halftime performance. "My daughter said the sweetest thing yesterday," Chris Martin told People. "She said, 'How are you feeling about the Super Bowl?' I said, 'Of course we're a little bit nervous.' She said, 'Dad, the worst that could happen is that you'll get turned into a meme.'"
Obviously, this pre-teen knows whats up.
Blue Ivy, on the other hand, was busy starring in her mother's "Formation" video, showing off her adorable curls. I think the world always knew that Beyoncé's daughter would end up famous, but I don't think anyone knew it would be happening so soon. Not complaining, though.