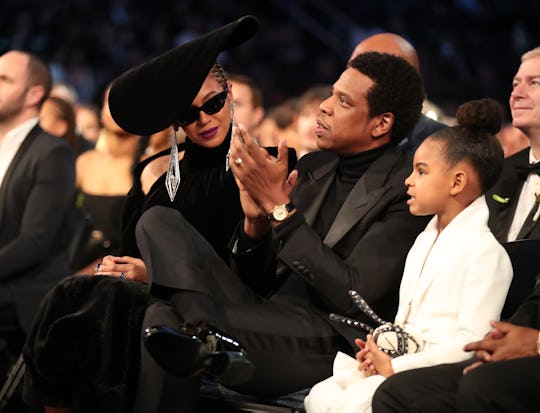 Christopher Polk/Getty Images Entertainment/Getty Images
Blue Ivy Bid Over $19,000 At An Art Auction & JAY-Z's Reaction Was Priceless
Blue Ivy might just be the coolest kid in the world. Not just because her parents are tastemakers and pop culture icons, but as we see her more and more often in public, it's becoming apparent that she has quite the personality and sense of humor. Take, for example, this weekend, when Blue Ivy bid over $19,000 at an auction and even her father couldn't stop her from slinging that paddle.
By now, it's become devastatingly clear who runs that household. Remember when she tried to tell her parents to calm down at the Grammys? While getting her mother to hold her snacks in designer fashion like it was NBD? Blue Ivy is the 6-year-old role model I never knew I needed.
On Saturday, Beyoncé, JAY-Z, and Blue Ivy attended the Wearable Art Gala in Los Angeles, hosted by Tina Knowles Lawson and Richard Lawson. The benefit was for the Lawson's WACO (Where Are Can Occur) Theater Center, which provides mentorship to teens who do theater and art. In short, it was a total family affair which is probably why Blue Ivy felt like she could take on the bidding duty for her parents.
The auction was hosted by Star Jones and Blue Ivy was ready to go from the jump. At first, she raised her paddle to bid $17,000 on a broken glass portrait of Sidney Poitier. When the price went up, she went down for $19,000, which is when JAY-Z hopped in to jokingly take the paddle away from her.
At the end, her dad's interruption cost Blue Ivy the portrait, according to Vanity Fair — Tyler Perry won the round, coming in at $20,000.
But the little woman would not be beaten by some film director. The next item was a smaller piece of art composed of deconstructed law and medial books by the artist Samuel Levi Jones," according to Vanity Fair, and she jumped on it. It's not clear whether Blue Ivy knew what she was betting on, but she won the item for $10,000, despite her father again joking trying to restrain her. Seriously, the girl obviously has great taste.
Later in the evening, Beyoncé took the paddle from her daughter's hands and won a pair of Lorraine Schwartz panther earrings for $17,000, according to The Hollywood Reporter. Jones, who again was hosting the auction, was all about the Carters' participation throughout the night and even tried to help Blue Ivy out. She told the young Carter, according to E! News, "Baby, you don't need to bid again, you don't need to bid against yourself!"
She added, according to E! News, "Her mother and father have been talking about how you gather art and that is a big deal for African Americans. Listen, you know Ms. Tina told me all of this. Why you think I'm up here talking about it?" Just in case you were feeling like 6-year-old Blue Ivy felt too entitled to hold up that paddle for a "few" grand, remember that her dad recently bought a Jean-Michel Basquiat painting for $4.5 million, as the New York Post reported. Buying art is something that the family just does. She's learning from the best.
The night wasn't just about letting Blue Ivy buy some art for her and the twins' playroom. Beyoncé was also awarded the 2018 Waco Theater Humanitarian Award at the event, according to Vulture, and she accepted the award after a short video message from former first lady Michelle Obama. Obama said of Beyoncé:
It has been a joy to work with you on issues we care about and witness your outstanding work first hand. Because millions of girls around the world love you and admire you — including my daughters — it means even more that they see you standing up for others. I love you. I am inspired by you. I'm so honored and proud of everything that you have achieved and everything that you have contributed to our country and our world.
JAY-Z's mother, Gloria Carter, also won the Everyday People Award, according to the Daily Mail. The hip hop mogul said on her behalf:
She raised four kids and she did the best job with me. My mother is a beautiful human being. She's a progressive woman, who was always strong. She's someone who is so strong that she told me, "You can do anything in life." I believed it so much that I thought she made it up herself. I didn't realize it was a cliché, but I worked really hard because of her saying. I'm very happy and proud of you.'
So even if JAY-Z and Beyoncé might have gone home about $30,000 in the hole thanks to their daughter getting paddle-happy, it was all good family fun in the long run. And let's hope Blue Ivy just gets better and better at knowing what kind of art to bid on and why. Then she can teach her little brother and sister how to make their father sweat at the next family art auction, because it's pretty hilarious to watch go down.
Check out Romper's new video series, Bearing The Motherload, where disagreeing parents from different sides of an issue sit down with a mediator and talk about how to support (and not judge) each other's parenting perspectives. New episodes air Mondays on Facebook.