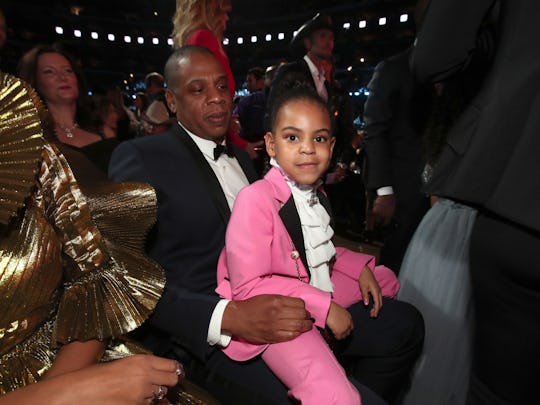 Christopher Polk/Getty Images Entertainment/Getty Images
Blue Ivy Didn't Attend The Grammys & It's A Real Shame
If your parents were Beyoncé and JAY-Z, you would look fabulous too, right? So goes the destiny of Blue Ivy Carter, Beyoncé and JAY-Z's six-year-old daughter who has consistently outdone me in the outfit department year after year. Blue Ivy is an uber stylish kid, but unfortunately fans did not get to see her fire red carpet look on Sunday because Blue Ivy didn't attend the Grammys and it could not be any more upsetting.
UPDATE: Later in the show, Beyoncé, JAY-Z, and Blue Ivy did appear to be at the Grammy Awards.
EARLIER: Beyoncé famously said "I slay" in "Formation." But what she really should have said was "Blue Ivy slays" because this is just equally a truth universally acknowledged. After appearing on the Grammys red carpet last year, people expected to see something huge from Blue Ivy, especially after the year that she had. But instead, fans tuned in to the red carpet pre-show and constantly refreshed Twitter to find not only that Blue Ivy wasn't on the red carpet, but that JAY-Z and Beyoncé weren't walking the red carpet, either.
Beyoncé and JAY-Z are basically the reigning queen and king of the entertainment industry (with Blue Ivy as the princess). A Grammys red carpet without Beyoncé and JAY-Z (and their brood) feels like just a regular ol' rug — it's missing the glamor, the family who really "tie the room together." People on Twitter definitely noted the absence of the Carter-Knowles family.
But even as the red carpet dwindled to a close, fans were still anticipating Blue Ivy's arrival and what she would wear, even when it didn't look like she would show up at all (in fairness, her bedtime must be before the notoriously long runtime of the show).
Even if she didn't show up, Blue Ivy deserved to be on that red carpet after the year she had, in both her personal and professional life. In February 2017, Beyoncé announced that Blue Ivy was going to become a big sister and that she and JAY-Z were expecting twins that year. In May, Beyoncé gave birth to a daughter, Rumi, and a son, Sir. In June, Blue Ivy made her big debut as a rapper on JAY-Z's album, 4:44, in the song "Blue's Freestyle." Finally in December, Blue Ivy made a cameo appearance in her dad's music video for his song, "Family Feud" where she appeared as herself, listening to JAY-Z rap to an empty church while she sat in the pews. She did this all before turning six-years-old in January, mind you. So this appearance at the Grammys feels like a fitting topper to the end of an amazing year for her.
For all her star power, her appearance at the Grammys is to not promote her own superstar agenda but to support her dad. JAY-Z is up for the most awards of the night — eight total — including awards for Album of the Year, Record of the Year, and Song of the Year. So her presence to support her dad on his huge night would make much sense.
This would not have been Blue Ivy's first appearance on the red carpet or at the Grammy's. Last year, Blue Ivy blew fans away with her adorable pink jacket and ruffly shirt, which was a tribute to Prince, according to Us Weekly. During the 2017 Grammys, Blue Ivy could be seen cheering on Beyoncé after her performance, and sitting on her dad's lap for the rest of the award's show. Although Beyoncé's performance was absolutely incredible, people could not stop staring at Blue Ivy. Especially after she made the most adorable impromptu appearance in Grammys host James Corden's "Carpool Karaoke" segment. This allowed her to "win the Grammys" last year, according to E! News.
This year should not have been any different from last year because Blue Ivy is absolutely killing it in her life in general, even if she skipped out on the red carpet. Who cares about the major celebrities who walked on the red carpet?
It's Blue Ivy's world and we're just living in it.
Check out Romper's new video series, Romper's Doula Diaries:
Watch full episodes of Romper's Doula Diaries on Facebook Watch.