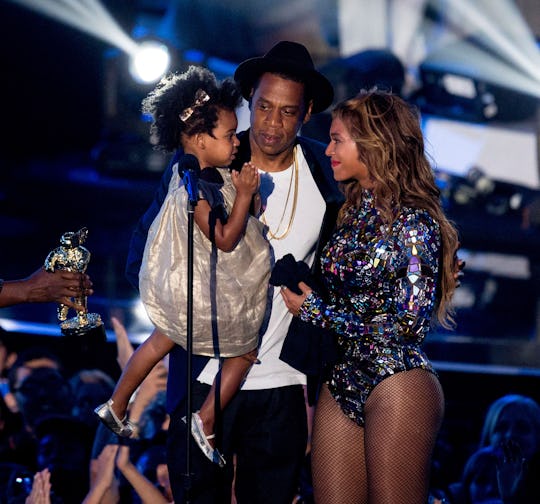 Mark Davis/Getty Images Entertainment/Getty Images
All The Best Blue Ivy Grammys Memes
So, Blue Ivy is only 5 years old and already her red-carpet arrivals (or lack thereof) garner more attention than stars with decades in the industry. Early on during the Grammys, a picture of Beyoncé and Jay Z's little girl wearing a long gown hit social media hard. We were all dying at the thought of Blue in a Belle-inspired gown until it turned out the picture was a fake. But these Blue Ivy memes from the Grammys featuring her stunning Prince-inspired pink suit will absolutely soothe your soul.
Blue Ivy and her mom, Queen Bey, have been much in the news in recent weeks. Beyoncé broke the internet (or at least stole it from President Trump) with her announcement that she and husband Jay Z were expecting twins on Feb. 1 with a gorgeous Instagram pic, and then an entire photoshoot on her website. The shoot featured none other than Blue Ivy, of course, posing with her mom like a total champ. It makes sense that Blue Ivy would be comfortable in front of the camera (she is the child of superstar performing artists and also the soon-to-be ruler of the world, Illuminati-confirmed), but seeing Blue Ivy in her Prince-inspired pantsuit was just too much for the internet to take.
As much as we loved Bruno Mars' homage to Prince... sorry, he was no Blue Ivy:
As if that outfit wasn't enough to have us dying, when Queen Bey finally came out to perform (I. Can't. Even), Blue Ivy's presence on stage with her mother and grandmother, Tina Knowles, was just everything:
And now can we talk about Blue Ivy dabbing along to Bruno Mars? Because Blue Ivy was dabbing along to Bruno Mars.
Actually, Blue Ivy was really showcasing her performance skills at the Grammys, which is crazy impressive, considering the audience is filled with some of the most famous performers in the world. She even managed to steal the show when she stepped in to save host James Corden's impromptu all-star Carpool Karaoke. Corden pulled Jennifer Lopez, Keith Urban, Faith Hill, and legendary singer Neil Diamond into his "car" to sing "Sweet Caroline," but it was Blue Ivy who made it amazing:
Blue Ivy proved at the Grammys that she is more than up to the challenge of being the daughter of Queen Bey, possibly one of the most famous, talented women in the world today, because she is clearly well and truly loved. A happy, confident kid, and as talented as Beyoncé and Jay Z are as artists, that little girl is their best work of art so far.