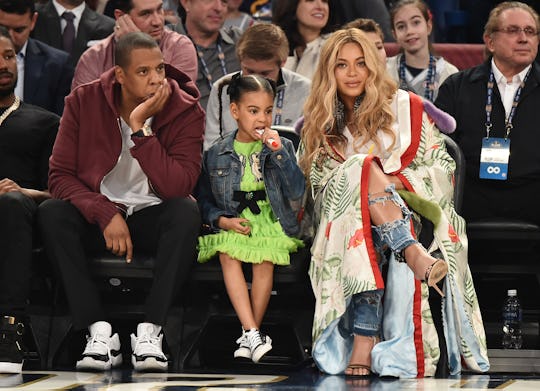 Theo Wargo/Getty Images Entertainment/Getty Images
Blue Ivy's Rumored Reaction To Beyonce's Twins Is Adorable
For the past few weeks, the reported birth of Beyoncé and JAY-Z's twins has sent the Beyhive into a frenzy, with fans dying to know their names, genders, and the exact day they were born. But with all of the buzz surrounding the new babies, it is important that fans don't forget Beyoncé and JAY-Z's firstborn daughter, 5-year-old Blue Ivy. Thankfully, just like everyone else, Blue Ivy herself is reportedly excited about the birth of her twin siblings, and this new rumor about how Blue Ivy feels about the twins might be the sweetest thing you'll read all week.
Blue Ivy, who has been described as "a powerhouse" and "super smart" by family friend Gwyneth Paltrow, is reportedly taking her role as big sister very seriously. On Wednesday, Hollywood Life reported that Blue Ivy had allegedly "adapted seamlessly" to having younger siblings in the household and really loves being a big sister to the twins who were reportedly born in June. "Blue is in heaven!" a source told Hollywood Life. "She is loving being a big sister and although the twins are still a little too small to have hands on contact with them, she loves watching them, kissing them, and talking to them." Could she be any cuter?
If this rumor is true, it wouldn't really be a huge surprise. Even though Beyoncé's lips remained sealed throughout her second pregnancy, it was clear that Blue Ivy was more or less excited about the upcoming birth of her twin siblings. In one video shared to Beyoncé's Instagram account during her pregnancy, Blue Ivy could be seen kissing her mother's bump with red lipstick, already showing her siblings some love.
In several of the photos shared to Beyoncé's Instagram during her pregnancy, Blue Ivy often takes center stage, looking adoringly at her pregnant mother and her bump. Whether pictured kissing Bey's bump or wearing a matching outfit with her mom, Blue honestly looks overjoyed in each picture, and who can blame her?
In 2013, Beyoncé shared with ABC News how being a mother to Blue Ivy kickstarted her protective instincts and at the same time, gave her life a bigger purpose (to be a mother and have more kids, of course). "I just want to make sure that she can have a healthy, safe, normal life..in the back of my mind, she's my priority," Beyoncé said of Blue Ivy. "And life is completely different now. So I'm — I feel really, really just lucky that I can still do what I love, and now have a bigger meaning. And that's to be her mother."
Not only has Beyoncé provided Blue with just that — a healthy and safe life — she has also given her the gift of being a big sister. If the rumors are true, then Blue Ivy is only beginning to understand the value behind that.