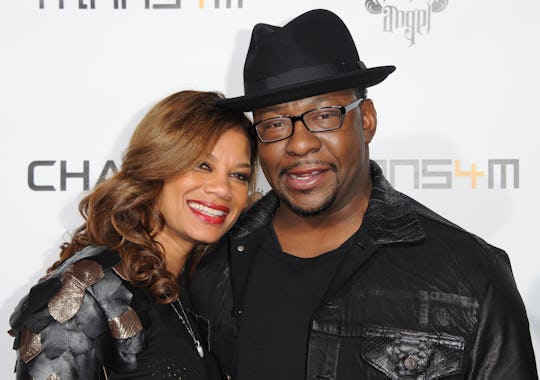 Allen Berezovsky/Getty Images Entertainment/Getty Images
Bobby Brown Is Expecting Third Child With Alicia Etheredge & They're Super Excited
Life hasn't always been easy for Bobby Brown. He certainly seems like a changed man from the R&B singer many remember from the '80s. Drug abuse, death in the family, legal problems. But things have turned around for him. Bobby Brown and Alicia Etheridge are expecting their third child together, and the pair couldn't look any happier.
Brown was married to troubled megastar Whitney Houston from 1992 to 2006. Together they had one child, Bobbi Kristina Brown, in 1993. Their marriage was tumultuous by all accounts. There were claims of infidelity, drug abuse, and verbal abuse. Houston accidentally drowned in a hotel in February 2012, just six days after Brown's 43rd birthday.
Her death wasn't the only tragedy Brown had to overcome at the time. His parents died within one year of each other (mother Carole in 2011, father Herbert in January of 2012). Then, in July 2015, after spending seven months in a medically-induced coma, his daughter Bobbi Kristina died. She was just 22 years old. In a scene eerily similar to her mother's death, Bobbi Kristina was found unresponsive in her bathtub at home. The cause of her death has not been revealed.
Brown and his wife Etheredge were welcoming their second child, a daughter Bodhi, the same month his daughter Bobbi Kristina died. The name "Bodhi" is Hindu for enlightenment or awakening.
"You know, rough times are rough times," he said at the Soul Food Festival in Los Angeles, according to Us Weekly. "Hard times are hard times. I don't know what the hell I'm going through right now, but I'm giving it to God and letting him deal with it."
This new addition to the family will be Brown's seventh child. Brown has been in a relationship with Etheredge, who is also his manager, since he and Houston divorced in 2007. The pair welcomed their first child, a son named Cassius, in 2009 and were married in 2012. Brown credits Etheredge with his new positive outllok on life. "I got my passion back for music and for loving myself because of her," he told People in 2011.
These days, Brown and Etheredge are generally keeping a low profile. Brown has been working on his memoir, My Prerogative, which has a tentative release date of June 2016 and deals with the tragedies he has had to overcome in recent years. In a press release, Brown spoke of the trials he's faced:
I was surprised by how therapeutic it was to work on this project, to look at the entire arc of my life and to realize that although there has been considerable pain, I have also been incredibly blessed.
May the blessings only continue for Brown and Etheredge.