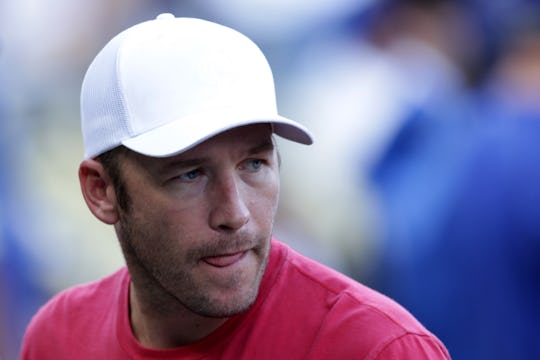 Jeff Gross/Getty Images Sport/Getty Images
Bode Miller Shares New Baby's Name & It's Truly Beautiful
Losing a child is the thing that terrifies parents most of all, the fear that keeps us awake at night. And yet, sadly, it happens. And the only thing a parent can really do is to keep living. Try to find some joy in the world... something I'm happy to say Olympic skier Bode Miller and beach volleyball player Morgan Miller, are figuring out in the wake of disaster. Six months after losing their 19-month-old daughter Emmy, the couple have welcomed a baby boy. During an interview on TODAY on Tuesday, Bode Miller shared the new baby's name and gave fans a clear-eyed, honest update about how the family is dealing with life in the present.
The Olympic skier and his wife Morgan welcomed baby boy Easton Vaughn Rek Miller seven weeks ago, but the baby boy was going by "Baby Brother" until quite recently, as Miller told TODAY. Easton was born at home, and as Miller explained, it was a totally different experience from welcoming a baby in the hospital, as per Us Weekly, "If you go in a hospital, you can't leave the hospital, but at home birth, you can do whatever you want. So [the older] kids were going to school and everyone was like, 'What's his name?' And we were like, 'We don't really have one. We just call him Baby Brother.' And everyone thought we were just crazy. It took us three weeks, but once we got to know him, it was really clear."
In the days after Emmy Miller's drowning death in June, Morgan Miller admitted she initially struggled to wrap her head around welcoming a new baby when she was still reeling from grief. But once she saw little Easton's ultrasound picture, she wrote on Instagram that she felt a shift:
As the screen switched over to 3D imaging, I saw my sweet baby's face. He looked so much like my other babies: just like Bode with that sweet nose and those full lips.
Bode Miller told TODAY on Tuesday that welcoming baby Easton has, indeed, helped the whole family; the couple share 3-year-old son Nash as well, and Miller has 10-year-old daughter Neeson and 5-year-old son Samuel from a previous relationship:
If there's one thing that can kind of help to heal and fill that spot in your heart, it's a baby, and he's a special one. It's been six months since we lost Emmy. The kids talk about her all the time, which is really good but obviously hard, too. We have to. She's everywhere in our house. You notice it. You feel the loss, but she's still part of our family.
The Miller family clearly have deep stores of courage and resilience. Within the space of six months they lost their baby girl and welcomed their new baby boy. I can't even imagine the sort of complex emotions they must struggle with on a daily basis. And yet, they seem to choose to stay positive — to focus on remembering their daughter and loving their other children as well.
Easton Miller was born into a pretty beautiful family.
This first-time mom wants to have a home birth, but is she ready? Watch how a doula supports a military mom who's determined to have a home birth in Episode One of Romper's Doula Diaries, Season Two, below. Visit Bustle Digital Group's YouTube page for the next three episodes, launching every Monday starting November 26.