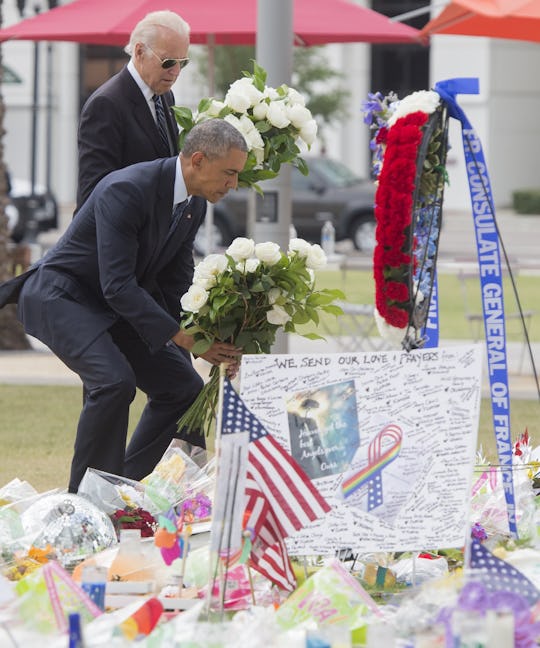 SAUL LOEB/AFP/Getty Images
Boston Globe Tweets Shooting Victims' Names & It's An Important Tribute For This Reason
The Boston Globe has had enough. Enough of gun violence, enough excuses, enough printing stories about mass murders. So what does a powerful newspaper do when they've had enough? They give a voice to the powerless. They say their names. And they make sure we never forget. On Thursday night, The Boston Globe began tweeting out the shooting victims' names, along with a hashtag that simply says everything we need to remember right now: #MakeItStop.
The Boston Globe has clearly decided to make a stand about gun control, and isn't afraid to use its formidable social media platform to do so. Its front page editorial sent the same powerful message; Make It Stop. In their call to ban assault weapons, the editors,
Greed, legislative cowardice, advanced technology — that is how we got here. The United States has been pummeled by gun violence since the assault weapons ban expired in 2004. This year, mass shootings have already claimed 61 lives. One class of gun, semiautomatic rifles, is largely responsible. But this nation cannot be a hostage of fear. We can make it stop.
The editors went on to write:
We do not yet know who will be the next president of the United States. But there's nearly a mathematical certainty that the person to hold that office will be called on to console a grieving nation after another mass shooting. It is so expected that you could draft the speech today, predict the response, and anticipate the legislative paralysis that would surely ensue.
With the powerful reminder that the next president will most likely be visiting the graves of more victims like the 50 we lost when mass murderer Omar Mateem went on a shooting rampage at Pulse nightclub in Orlando, they took to their social media account. Filling their Twitter feed with the names of victims of gun violence throughout the decades.
These are just a few of the names that The Boston Globe has been tweeting out. A few names in what felt like an endless line of dates, ages, cities etc. While the media is still (rightfully) focused on the victims of the Orlando mass murder, saying the names of these other victims puts everything in sharp relief. Because Orlando is not a one-time situation, not by a mile. And the time for debate is simply over.
The time to be silent is over. The time to be anesthetized by the bustle, the minutiae of our to-do lists and goals, the idea that our little lives fit in a shoe box and we simply do not have time enough to create change... it's all over. We are not the powerless ones.
Because our lives get to go on. And theirs did not.
#MakeItStop