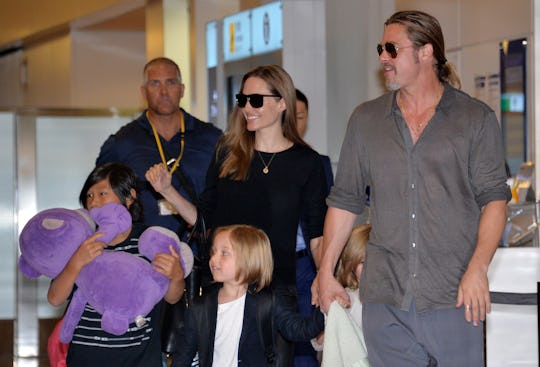 YOSHIKAZU TSUNO/AFP/Getty Images
Brad Pitt Wants Joint Custody Of His 6 Kids With Angelina Jolie
The world is finally rolling along without our beloved Brangelina. We've had a few months to see how we feel, we've all gone for long, contemplative walks on the beach and tried to figure out what went wrong with Brad Pitt and Angelina Jolie. We drank a little wine, ate a little ice cream, and have tried to move on with our lives. Apparently, so has Brad Pitt. While the 52-year-old actor managed to lay low since Jolie filed for divorce, Pitt has now filed for joint custody of the couple's six children.
He cited irreconcilable differences with estranged wife of two years Angelina Jolie in his divorce paperwork filed at the Los Angeles Superior Court on Friday. While Jolie initially filed for divorce in September and asked for physical custody of their six children, Pitt has asked for joint custody in his own paperwork. The couple have been officially separated since Sept. 15, according to Jolie's filing, which was the day after an alleged altercation on a private plane reportedly between Pitt and the couple's oldest son, 15-year-old Maddox Jolie-Pitt. The incident is being investigated by the Department of Children and Family Services as well as the FBI at this point.
After Jolie filed for divorce in September and sought full physical of the couple's six children, 15-year-old Maddox, 12-year-old Pax, 11-year-old Zahara, 10-year-old Shiloh, and eight-year-old twins, Knox and Vivienne, the couple came to a temporary agreement that saw the children living full-time with their mother and visitation with their father. Sources close to the couple told E! News that the voluntary agreement also included individual counselling for both parents and that Pitt's initial visit with the children would happen under the supervision of a therapist. That agreement was reportedly to continue until Oct. 20. Pitt signed his request for joint custody of the couple's children on Oct. 31.
As the couple try to wade through the choppy waters of parenting through a divorce, they are also trying to determine how best to split their properties. Pitt and Jolie own several properties in New Orleans, Los Angeles, and even an amazing chateau in France. While Jolie requested that she be awarded specific properties in her divorce filing, Pitt has not made any such request.
One thing the couple clearly still have in common; they want the best for their children. When Jolie initially filed for divorce, Pitt released one statement:
I am very saddened by this, but what matters most now is the wellbeing of our kids. I kindly ask the press to give them the space they deserve during this challenging time.
As for Jolie, her attorney released a statement on her behalf that shared a similar theme:
Angelina Jolie-Pitt has filed for dissolution of the marriage. This decision was made for the health of the family. She will not be commenting at this time, and asks that the family be given their privacy during this difficult time."
Whatever else happens in the complicated lives of the Jolie-Pitt children, they are clearly well loved. And that's certainly something.