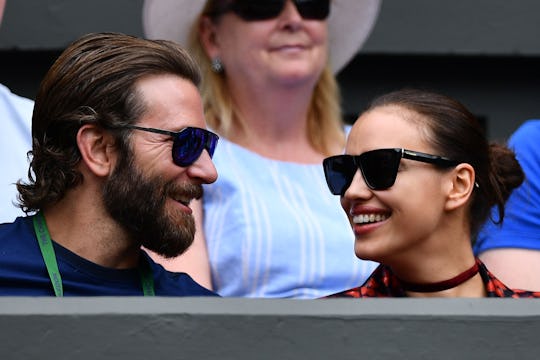 LEON NEAL/AFP/Getty Images
Bradley Cooper & Irina Shavk Reportedly Reveal When Their Baby Is Due
According to Entertainment Tonight, actor Bradley Cooper and model Irina Shavk are expecting their first child together — and, on Tuesday, one source reportedly revealed when the world can expect to meet the couple's little one. Cooper and Shayk's due date is reportedly around May or a little later in the summer, meaning that the Victoria's Secret model has been pregnant for just over three months.
Just before news broke of Shayk's pregnancy, the Russian model walked in the Victoria's Secret Fashion Show in Paris, where she sneakily wore lingerie that covered over her stomach, making it hard to detect a bump. Now that baby rumors are swirling, neither star has actually confirmed the pregnancy (or any possible due dates), but their representatives haven't exactly denied the news, either, according to E! News.
"Irina is feeling wonderful. She is so happy," a source reportedly told the magazine. "Bradley and her can't wait for their baby to arrive in the summer. They [also] know the sex of the baby."
That's something the public probably won't learn anytime soon, though. In fact, don't expect to learn much about the pregnancy at all from Shayk or Cooper. The couple have remained quiet about even their relationship, which was first documented by paparazzi in March 2015. They (understandably) seem to enjoy keeping their private lives private.
According to People, pregnancy hasn't slowed Shayk down — she's continued traveling for work and slaying in the modeling world. "Being pregnant hasn't stopped [the model] from working hard in Europe," a source reportedly told People. "Bradley and Irina both seem very independent and supportive of each other's careers."
It also seems like Shayk and Cooper have been planning a family for a while now, if insider intel is to be believed. Back in June, a source was already telling E! News:
Things are getting more serious between them. They have spoken about having a family soon and building a future together. Irina would like to have kids in the next few years. Being a mother is something that is very important to her. ... Things are moving in an amazing direction.
If Shayk's already in her second trimester, that means she was pregnant just a few months after she and Cooper celebrated their one-year anniversary (that is, if they chose to do so). Congratulations to the happy couple and their growing family! Can we fast-forward to May and see adorable baby pictures, now, please?