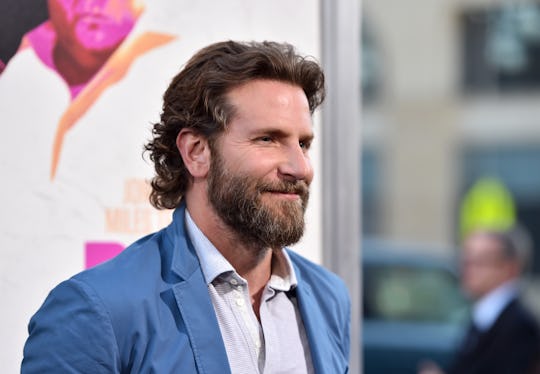 Alberto E. Rodriguez/Getty Images Entertainment/Getty Images
Bradley Cooper & Irina Shayk Chose A Gorgeous Baby Name
After being spotted out for the first time together, Bradley Cooper and Irina Shayk's baby's name has been revealed to the world. The notoriously private couple have reportedly named their daughter Lea de Seine Shayk Cooper, according to a source that spoke with E! News, giving the little one both of her parents surnames and making her sound sort of regal. It's an impressive name for the couple's first and only child together so far. The pair reportedly knew the sex of the baby all along and had been deliberating over baby names throughout most of the pregnancy. They seem to have decided on a real winner.
According to People, Shayk gave birth about two weeks ago and has been laying low with her new infant ever since. On Monday, though, the couple stepped out together for a walk on Venice Beach in California and grabbed some ice cream. The source told E! News, "They are both extremely thrilled and feel so blessed." Although the couple tends to keep to themselves, Shayk has been anything but shy about her pregnancy.
The 31-year-old revealed her good news in November at the Victoria's Secret Fashion Show, walking down the runway and showing off her baby bump. Allegedly, no one even knew she was pregnant for the course of the show behind the scenes, proving once and for all all maternity bodies are beautiful.
According to sources close to him, Cooper has been really excited about being a dad, even saying that he seemed to be more "protective" of his girlfriend after learning that they were going to be a family. Last month, he attended her baby shower, "hanging with his mother, making sure everything went smoothly. They added, "He is always very chill and relaxed."
If anything, the couple is more than prepared — physically at least — for baby Lea. At the shower, Shayk reportedly received designer baby clothes and "expensive" toys. Previously, the couple said that they'd be interested in having more than one kid. An insider said that, "Bradley and Irina love each other so much and this is not gonna be the only kid — there will be a few more after this one." The source also said that although the couple hasn't yet gotten engaged or married (that fans know of at least) the two plan on spending their lives together as one big happy family.
But maybe before planning for more kids, they should try to sneak in more beach walks and family ice cream excursions with baby Lea first.