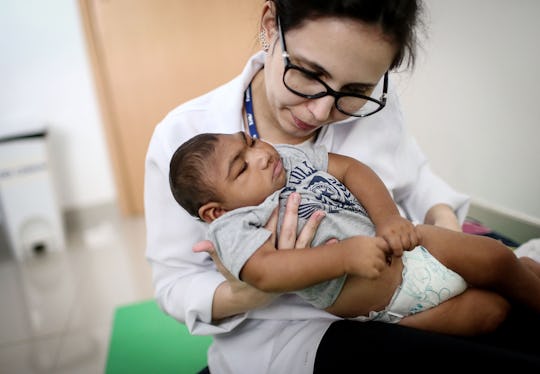 Mario Tama/Getty Images News/Getty Images
Brazil's Zika Related Birth Defects Have Doubled, Among Other Frustrating Developments
Updates on Zika emerge each day, often emphasizing the severity of the epidemic. Researchers from Brazil's Oswaldo Cruz Foundation have just recently discovered how far-reaching Zika has been in affecting the health of Brazilian babies. In comparing data from as early as 2008 to data collected through February 2016, researchers learned that Brazil's Zika related birth defects have doubled and it's just the latest frustrating development in the fight against the mosquito-borne disease.
Northeastern Brazil, the hardest hit region, actually quadrupled in number, showing about 40/100,000 birth defects on average in comparison to its pre-Nov. 2015 statistics of 170 defects in each 100,000 births. Between November 2015 and February 2016, researchers wrote that "1,027 hospitalizations for congenital malformations of the nervous system were recorded nationwide." Nearly half of these hospitalizations were in the northeast.
In addition to birth-related issues and defects, the researchers also looked into the increase of "rare, potentially deadly inflammations of the brain and spinal cord such as encephalitis, myelitis, and encephalomyelitis, as well as Guillain-Barré syndrome" in wake of Zika, comparing data from as early as 1914 up to present-day. Whereas the aforementioned conditions are not always linked to Zika, the study noted that a correlation was possible because they are "compatible with viral infection and inflammation-associated manifestations."
The CDC published the Zika study, which ultimately found " an unprecedented and significant rise in the hospitalization rate for congenital malformations of the nervous system, Guillain-Barré syndrome, encephalitis, myelitis, and encephalomyelitis." The study also suggested that current methods of preventing, diagnosing, and treating Zika have ultimately been inadequate — there is much more that needs to be done in order to prevent these high numbers from climbing.
Furthermore, incidences of Guillain-Barré syndrome have nearly tripled. A harrowing syndrome, sufferers slowly endure paralysis as their "body's immune system attacks [its] nerves." The World Health Organization stated that it believes it appropriate "to infer a link with an ongoing outbreak of Zika virus infection" to Guillain-Barré syndrome.
Unfortunately, it seems that the reasons to fear Zika infection are only increasing. Since this most recent worldwide Zika outbreak, which began May 2015 in Brazil, mothers specifically have needed to take extra precautions to protect their unborn babies' health. As Zika has remained top-of-mind for over a year, researchers are finally equipped to weigh the full extent of the epidemic. Countries all around the world are working to improve Zika virus prevention but, if this study is any indication, there is still much more to be done.