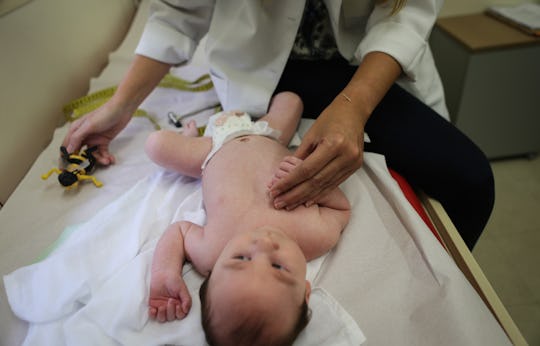 Mario Tama/Getty Images
How To Help Babies Affected By Zika Virus & Lend Your Support Where It's Most Needed
As the spread of the Zika virus continues to make headlines, many are wondering how they can help. Although a vaccine for Zika is still in development, there are a few important ways you can help babies affected by Zika, both those who are being exposed to the virus after they're born, and the thousands born with microcephaly, a catastrophic birth defect that causes babies to be born with tiny brains and heads, leaving them severely disabled. The images are heartbreaking and the babies being born in the midst of the Zika outbreak are paying the highest price.
There are many organizations that have jumped in to help those impacted by the Zika outbreak. Some are working to help women and babies in Latin America access basics to prevent the spread of Zika — from getting them mosquito repellents and fumigating whole areas to kill off the mosquitoes spreading the disease. Some charities are providing mosquito nets for mothers and babies to sleep under to keep the mosquitoes away. Another group is organizing to reach out and help women get free access to medical abortions if they live in countries where access to safe and legal abortion is restricted.
However you'd like to pitch in and help, there are plenty of organizations that need your support. Here's a look at just how far and fast Zika is spreading across the globe.
UNICEF Is Providing Resources On The Ground
The relief organization announced an appeal for $9 million to spend directly in communities to help babies impacted by the Zika virus and try to get information and resources to mothers about the dangers of Zika and how the virus is spread.
Operation Blessing International Is Providing Mosquito Nets
To tackle the spread of Zika, Operations Blessing International is collecting donations to buy and distribute mosquito nets and provide portable ultrasound machines to monitor fetus development in pregnant women across Haiti and El Salvador. They are also supporting fumigation efforts to kill off the mosquitoes spreading the virus in El Salvador.
Women On The Web Is Providing Reproductive Services
The outbreak of the Zika virus in South America is a double-whammy for women who are pregnant in those areas, because abortion and family planning services are severely restricted across the region. Enter Women on the Web, an online medical abortion service that is collecting donations to offer free abortion services, including online doctor consultations and shipment of abortion medications, to women in areas affected by the Zika virus where abortion is restricted. Already coping with rampant poverty, preventing more babies being born with Zika-related birth defects could make a big difference in the lives of the children that women already have.
MAP International Is Sending Supplies To Mothers
MAP International is a Christian relief charity which is collecting money to send pain relievers, antibiotics, and mosquito repellent to moms and babies exposed to the Zika virus across Latin America.
Direct Relief Is Also Providing Insect Repellent
Working with St. Boniface Haiti Foundation, Direct Relief is providing insect repellent to women and children in areas where Zika is spreading. The humanitarian organization is specifically focused on maternal health in vulnerable, poverty-stricken areas.
Malteser International Provides Prevention Kits
The Order of Malta Worldwide relief just launched efforts across the La Guajira and Magdalena regions of Colombia to distribute prevention kits, including mosquito nets, mosquito repellents and insecticides to families and pregnant women to help stop the spread of the Zika virus in the country, which has been one of the hardest hit in the outbreak.
Help Provide Care For Children With Microcephaly As They Grow
Because we know there will be thousands, if not tens of thousands of babies born with the birth defect linked with Zika, microcephaly, there will be a growing need for aid to help these babies throughout their lives, which will be plagued by all sorts of serious health issues. Organizations like Child Fund International have a history of helping children in need throughout Latin America. There are also individual clinics like the Associacao de Assistencia a Crianca Deficiente (AACD) in Recife, Brazil, which is currently caring for more than 130 babies with microcephaly believed to be linked to the Zika virus.
However people help, donations for mosquito nets and repellent are crucial to preventing the spread of Zika and minimizing the number of fetuses impacted my microcephaly.