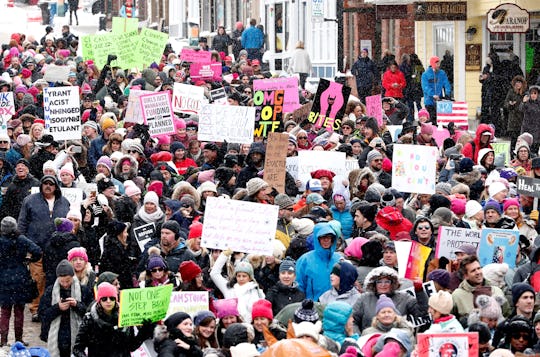 Rich Polk/Getty Images Entertainment/Getty Images
If You're Planning On Breastfeeding At The 2018 Women's March, Be Prepared
The 2018 Women's March is nearly upon us, and while this year's main event will be held in Las Vegas, Nevada, there are similar marches and happenings scheduled all over the world for this weekend. As moms, many of us love the idea of sharing this powerful experience with our children, but if you're nursing, there are a few things to bear in mind before you head out the door with your little one in tow. So what do you need to know if you're breastfeeding at the 2018 Women's March?
Consider this is the dead of winter, one of your first concerns probably has to do with keeping your little one warm while you're on the go. While the forecast for Las Vegas on the big day is a relatively mild 53 degrees Fahrenheit (at the time of this writing), other cities might be a bit on the chillier side (for a list of marches happening across the country, check out the Women's March Anniversary Event Map here). Wearing your baby in a carrier can help to keep both of you toastier thanks to the body heat factor, plus if you wear a roomy coat, you can use it to wrap around your baby for extra warmth (and privacy, should you need to feed in the middle of a sidewalk). Plus, strapping on a carrier will make navigating those crowds quite a bit easier than it would be if you were pushing a stroller (which might not even be allowed at your march). Of course, make sure that all the essential parts are covered if it's cold out — feet, hands, head — and also be sure that your baby has plenty of room to breathe.
Speaking of privacy, you might find that discretion is difficult — if not impossible — to achieve. But when it comes to breastfeeding in public, you should know that the law is on your side: Forty-nine states, the District of Columbia and the Virgin Islands have specific laws that allow women to breastfeed in any private or public location (and those laws do not include any provisions about "covering up," so take that, haters!). The only state that's not on board with public breastfeeding, inexplicably, is Idaho, which does have a march scheduled on January 20 (so maybe bring along a cover if you're headed there, though one would hope a women's march would be the last place where someone would complain about breastfeeding). Attendees of the D.C. march (slated for January 20) can even make use of a handy-dandy printable card created for last year's event by the Breastfeeding Center for Greater Washington which breaks down public breastfeeding rights for strangers; the website also offers a map of semi-private spots where women can nurse or pump. And while the map is D.C.-specific, it does offer some great ideas that could apply to any city: Museums, libraries, and universities often have lounge-type areas and public bathrooms that are more spacious (and less gross) than most.
If you're going to need to pump — and pack accordingly — be sure to check out your local event's website or Facebook page for specific safety regulations. At last year's D.C. event, for example, only small bags and/or clear backpacks were allowed. Pumping isn't always protected by the same "anytime, anyplace" laws as breastfeeding, which is why we mentioned the public bathroom thing (plus, they usually have electrical outlets).
Perhaps the most important piece of advice for any breastfeeding mama looking to take part in this historic moment? Expect the unexpected. Nothing can quite prepare you for the experience of being essentially trapped in a throng of people while clutching your helpless (and likely hungry) infant, and last minute closures or changes to routes can totally derail your carefully planned agenda.
"Research this ahead of time," Cathleen Walker, a Greenwich, CT-based mom tells Romper. "I was in D.C. last year, there woefully few (overflowing) porta potties, buildings that were supposed to be open for warmth and bathrooms were locked or inaccessible due to barriers from police."
Then again, you might get lucky. Mom-of-two Carina Palmqvist, who went to the D.C. march last year with her two children, tells Romper, "We are always lucky with most restaurants and hotels. Try a luxury one with a bigger ladies room for breastfeeding! If we need to use the restrooms, most hotels or restaurants just don't say no if you rush in with children and look like they desperately need to go!"
Basically, as with most mass, public, outdoor gatherings, the Women's Marches have the potential to be amazing and transcendent, but also potentially uncomfortable and inconvenient, particularly for breastfeeding moms. But with a little preparation and a lot of pluck, you can make it through!
Check out Romper's new video series, Romper's Doula Diaries:
Watch full episodes of Romper's Doula Diaries on Facebook Watch.