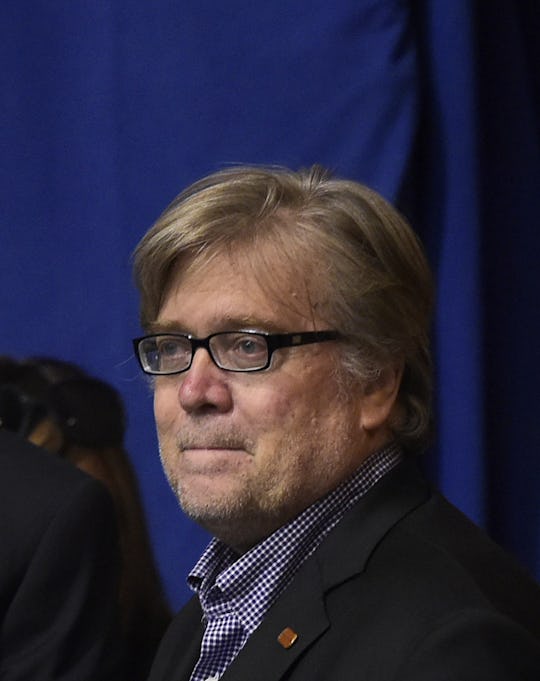 MANDEL NGAN/AFP/Getty Images
Breitbart News Is Suing Another Website For Defamation, But Will Steve Bannon Be Involved?
In the 2016 presidential election, it wasn't only the American people who were divided — it was the media as well. As president-elect Trump continuously called out much of "mainstream liberal media" for what he felt was unfair bias against him, there were more conservative options whom some felt might have had an unfair bias against Democratic nominee Hillary Clinton. The lines were drawn in the sand. And now one site is crying pretty serious foul play. Breitbart News is suing another website for defamation, and many are wondering if Breitbart CEO Steve Bannon is involved.
In a statement released to The Hill, Breitbart News wrote in part:
Breitbart News Network, a pro-America, conservative website, is preparing a multi-million dollar lawsuit against a major media company for its baseless and defamatory claim that Breitbart News is a 'white nationalist website.' Breitbart News cannot allow such vicious racial lies to go unchallenged, especially by cynical, politically-motivated competitors seeking to diminish its 42 million monthly readers and its number one in the world political Facebook page. Breitbart News rejects racism in all its varied and ugly forms. Always has, always will.
The statement did not share which major media news outlet would be named in the lawsuit.
Breitbart News former executive chairman Steve Bannon has been a hot topic in the media ever since president-elect Donald Trump named him as a senior White House counselor and analyst. Bannon has not been named in the statement regarding the impending lawsuit, and has recently taken time off from the news site to work as CEO of Trump's presidential campaign. When Trump announced his decision to name Bannon his chief counselor, he released a statement saying he believed a partnership with Bannon would be an "effective leadership team" and was confident that together they would "transform the federal government, making it much more efficient, effective and productive."
While there is still very little information on Bannon's possible involvement in this impending lawsuit, the question of which "major media company" could be named is already being batted around the internet. Breitbart News managed to generate more than 240 million views in the month of October alone, and has caused more than a few waves along the way. Breitbart columnist David Horowitz wrote a story while Bannon was still the executive chairman in which he referred to conservative commentator Bill Kristol as a "renegade Jew." Trump's communications director, Jason Miller, spoke to CNN and insisted the allegations that Bannon or Breitbart News were promoting a white supremacist agenda were entirely misleading:
What I think is frustrating is when we see so much news coverage, particularly on this network, unfortunately, on the issues that divide us after the election.
For now, it seems the extent to which Bannon might be involved with the suit, and which news outlet has been the subject of Breitbart's lamentations, will remain a mystery.