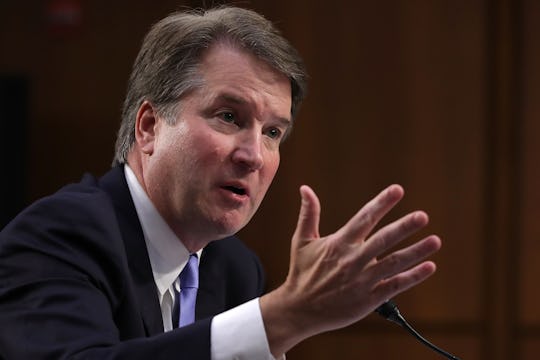 Chip Somodevilla/Getty Images News/Getty Images
What You Need To Know About Brett Kavanaugh's Stance On Birth Control
SCOTUS nominee Brett Kavanaugh has spent the past few days in the hot seat at his Supreme Court confirmation hearings in Washington, D.C., as is perfectly appropriate. After all, as President Donald Trump's pick to take over the empty seat of Justice Anthony Kennedy on the Supreme Court, Kavanaugh could soon be in a position to affect dramatic change to U.S. law that would resonate for decades. Which is why his responses on key issues like women's reproductive rights need to be heeded very closely. As more and more about Kavanaugh's stance on birth control is slowly being revealed, it's certainly not great news for women who like to make choices about their own bodies.
On Thursday, Sept. 6, Kavanaugh was answering questions put forth by the Senate Judiciary committee about a particular decision he had presided over in 2015, according to Vice, and Texas Sen. Ted Cruz asked Kavanaugh about his decision in the case of Priests for Life v. US Department of Health and Human Services.
The case was brought forth against the government (specifically the Department of Health and Human Services) by anti-abortion organization Priests for Life, according to The Cut, because the group didn't want the government to make them provide contraceptive and sterilization coverage as part of their employees' health care. The case was initially dismissed in 2014, according to Vox.
A year later, according to Vox, Kavanaugh was a judge in the U.S. Court of Appeals for the District of Columbia circuit, and he overturned that ruling in favor of the priests. As the National Review noted, Kavanaugh explained in his ruling at the time that asking the priests to file the paperwork to provide contraceptive coverage would "substantially burden the religious organizations' exercise of religion because the regulations require the organizations to take an action contrary to their sincere religious beliefs (submitting the form) or else pay significant monetary penalties."
When Cruz asked him on Thursday about his decision to side with an organization that did not want to include birth control in its health coverage, according to PBS News, Kavanaugh responded by saying:
It was a technical matter of filling out a form. They [the priests] said filling out the form would make them complicit in the provision of abortion-inducing drugs.
As Lauren Kelley of The New York Times pointed out on Twitter: "The generous interpretation of this comment is that he was describing the plaintiffs' case — they (incorrectly) consider IUDs an abortifacient."
So let's give Kavanaugh to benefit of the doubt and take the most "generous" interpretation of this comment. His language and his choice on the matter still begs the question: Does Brett Kavanaugh actually understand how birth control works and does he believe women should have access to it?
Those people who have been closely following the confirmation hearings were justifiably concerned about the video and took to Twitter to discuss.
It wasn't just the casual observer who was concerned about Kavanaugh's choice of words. Massachusetts Sen. Elizabeth Warren took to Twitter with a reminder for the SCOTUS nominee:
Newsflash, Brett Kavanaugh: Contraception is NOT abortion. Anyone who says so is peddling extremist ideology – not science – and has no business sitting on the Supreme Court
NARAL also shared a tweet full of disdain for Kavanaugh's anti-choice position about birth control:
Kavanaugh just referred to birth control as "abortion-inducing drugs," which is not only an anti-science lie, it's an anti-choice extremist phrase that shows that our right to access both abortion and contraception would be in SERIOUS danger if he is confirmed.
While Planned Parenthood director of political communications Erica Sackin shared the fact that the plaintiff allegedly didn't even refer to contraception as "abortion-inducing drugs." She wrote, "Important to note that in this case, the plaintiff was actually opposed to contraception in its own right -- not connected to abortion. The 'abortion-inducing' bit is #Kavanaugh's own addition."
Of course, the real cause for concern is the fact that Kavanaugh's language in the hearing appears to lend credence to the fact that anti-abortion activists have been celebrating his nomination as a possible win for their cause. For instance, Father Frank Povone of Priests For Life shared his excitement on the organization's website in July:
We at Priests for Life have personal experience of Judge Kavanaugh's approach to religious freedom, because he sided with us when we had to defend our religious freedom in the D.C. Circuit Court of Appeals. At a time when these freedoms need more defense than ever, we urge the Senate to conduct a swift and fair confirmation process, focused on the excellent qualifications of Judge Kavanaugh, and not on the politics of personal destruction that the Democrat Left are such experts at carrying out.
According to the Centers for Disease Control and Prevention, 68 percent of women of reproductive age are currently using some form of birth control. Which means that more than two-thirds of adult women in the country, as well as their families, would be affected if Kavanaugh made similar decisions on the Supreme Court.
It seems Kavanaugh's stance on birth control trickles into his abortion stance as well. In a leaked 2003 email, according to Rolling Stone, Kavanaugh allegedly wrote that he did not necessarily consider Roe v. Wade "settled law" — which means a law that is so well-established that it cannot be overturned, according to The Atlantic — as he has previously claimed in public. Instead, according to The New York Times, he allegedly wrote:
I am not sure that all legal scholars refer to Roe as the settled law of the land at the Supreme Court level since Court can always overrule its precedent, and three current Justices on the Court would do so.
Brett Kavanaugh's referral to birth control as "abortion-inducing drugs" at his hearing today should be taken seriously by women around the country. Because in a very short period of time he could well be sitting on the Supreme Court, influencing decisions about your reproductive choices. If you're worried about your reproductive rights, contact your senator today.