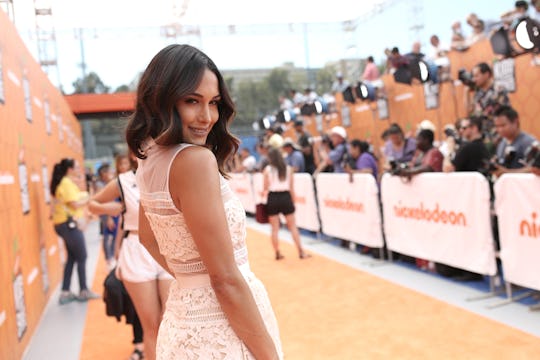 Mike Windle/Getty Images Entertainment/Getty Images
Brie Bella & Baby Birdie Got To Spend Mother's Day At Home
There's nothing quite like coming home from the hospital with a newborn: It's a moment of pure excitement and nervousness, especially for first-time parents. For Total Divas star Brie Bella and her former WWE superstar husband Daniel Bryan, the moment was made all the more special by its timing this past weekend. Brie Bella and her baby daughter, Birdie, got to spend Mother's Day at home, as the new mama was released from the hospital on Sunday. Bella gave birth to the baby girl, whose full name is Birdie Joe Danielson, on May 9. This is the first child for Bella and Bryan, whose real names are Brianna Monique Danielson and Bryan Danielson, respectively.
In a beautifully sweet black and white photo posted to her Instagram account, Bella expressed her overwhelming gratitude at becoming a mom. Bella's Mother's Day Instagram caption read in part, "So honored I get to celebrate this holiday as a mom, it's been a dream of mine. Love you Birdie!!" Bella also shared a brief video update on YouTube from their home in Phoenix, Arizona. In the video, Bella gushed about how excited she is to finally be a part of the "mom's club," and showed off a lovely bouquet of handpicked sunflowers from her husband.
Bella's YouTube video shows her looking shockingly well-rested and without that "mombie" look of the first few days of having a newborn. Even hubby Bryan looked surprisingly put together. Of course, they can thank a napping newborn for the spare moment to document Bella's first official Mother's Day. In her video, she noted she was looking forward to getting set up into her motherhood routine, so I think we can chalk this up to Bella and Bryan taking full advantage of the moments when baby Birdie is sleeping. They'll hit their newborn parenting groove soon enough.
Bella also shared that she was super grateful to be home and back with her French bulldogs, Winston and Frenchie. (Fun fact: Winston used to belong to her newly engaged sister Nikki Bella and Nikki's fiancé, John Cena.) Bella hinted that Birdie would get the chance to meet her four-legged older siblings once she awoke from her nap. So far, there aren't yet any Instagrams or YouTube videos of that adorable encounter.
As a mom who gave birth on Mother's Day four years ago, I can totally relate to the excitement of Mother's Day feeling "official" once baby is finally on the outside. What a special moment to be able to bring home Baby Birdie and start settling in to the wonder of those first few newborn weeks.
Congratulations to the happy family!