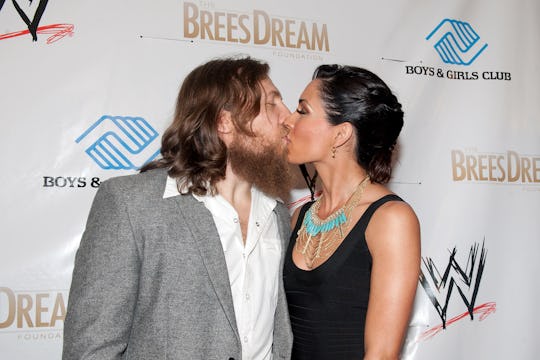 Erika Goldring/Getty Images Entertainment/Getty Images
Brie Bella Posts First Photo Of Birdie
She may have arrived more than a week past her due date, but Birdie Joe Danielson is feeling a lifetime's worth of love in just a couple of days. The first child of Total Divas and WWE star Brie Bella and WWE SmackDown general manager Daniel Bryan, the new baby even made her Instagram debut Thursday. And Brie Bella's first baby photo of Birdie — and very first public family photo of the happy clan — seriously could not be cuter. The same goes for the loving tribute to the newborn that Bella posted in the caption, because is there anything more heartwarming that a new mom meeting her very first baby right before Mother's Day?
For Bella, it was, perhaps unsurprisingly, "the greatest feeling in the world," as she wrote alongside the photo of herself in the hospital bed, cradling Birdie and holding her husband's hand as he looks down at the two of them. Clearly relishing an incredibly special moment, she continued:
Can't even express the love I feel for her 💗 from the moment I saw her I was in love. Thank you all for your love and support. Birdie Joe is her Daddy's mini me!!✨🦋 #Imfinallyamommy#greatestlove#motherhood
Birdie was born Tuesday, May 9, although her due date was April 30, People magazine reported. And even though she was a little late, her ecstatic parents had already shared with fans details about the baby they couldn't wait to get to know. For example, they had chosen her very special and meaningful name after Bella's own grandfather and based on a tradition in the family of Bryan (whose real name is Bryan Danielson), as Bella explained to Fit Pregnancy and Baby back in March:
Joe is her middle name after my grandfather — his name was Joseph, and he meant the world to me. Birdie is my because my husband and his whole family are 'B's. And he married me, a "B" too, so his one request was our kids have "B" names. I didn't realize how hard it was to find "B" girl names but we both came across Birdie and knew that was it!
It seems as though the couple have been careful to keep the baby's face off social media, at least for now. In the Instagram pic, all that's visible is her head in a pink knit cap; in another photo, posted by Bella's twin sister, Nikki Bella, only the baby's teeny tiny hand is featured.
Still, I have a feeling these proud parents will surely be documenting their daughter's first days, weeks, and months — and well beyond — in the world. How much of that they decide to share on social media is another story. Still, what they have posted shows how content they are, and, for that, congratulations are in order.