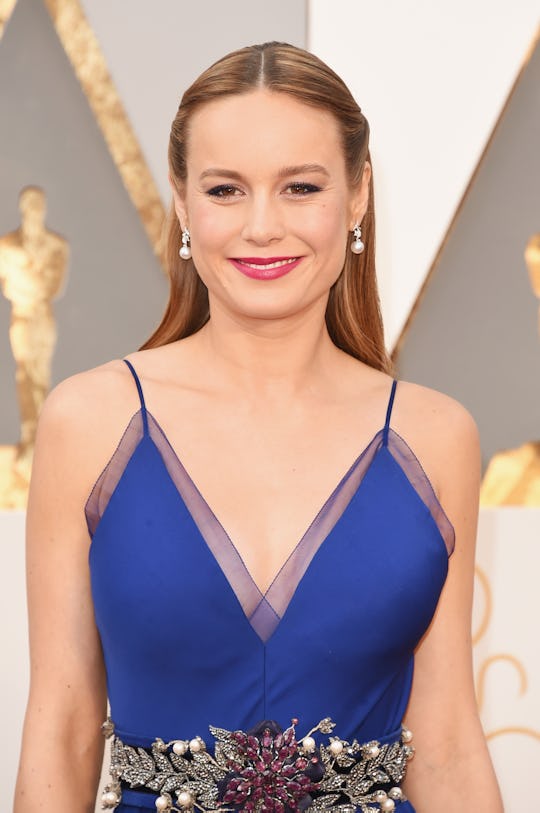 Jason Merritt/Getty Images Entertainment/Getty Images
Brie Larson's Oscars Dress Is True Blue Perfection
There's no stopping Brie Larson. After starring in Room, a film that follows a mother and son's journey to freedom after being held captive for five years, the once-unknown actress has become an awards show staple. And not only is she taking home all the honors, but she looks stunning while she does it. Which is why it comes as no surprise that Brie Larson's Oscars dress at the 2016 awards show made jaws drop.
Larson, who is nominated for the Best Actress Academy Award for her role as Joy "Ma" Newsome, showed up to the 88th Academy Awards a blue, deep-cut sheath dress, complete with a gem belt. She paired the stunning gown with simple drop earring and pinned-back hair. Larson's Oscars ensemble is the perfect piece to round out the 26-year-old actress' stylish awards season. Though she is a relatively new face when it comes to red carpet appearances, Larson is proving that she can hold her own against the more familiar faces. It would be easy for a newbie like Larson to play it safe when it comes to award show attire, but instead, she manages to take risks without being too over-the-top. Just take her dress from the 2016 Golden Globes, where she took home the award for Best Actress in a Motion Picture, Drama. The sleek silhouette of Larson's dress, which many compared to the Princess Leia slave dress, is fairly traditional. But the side cutouts and halter neckline of this Calvin Klein original make it a little out of the ordinary.
Larson continued rocking the cut-out trend at the Screen Actor's Guild awards, where she donned a pale blue Versace dress and took home yet another award for Outstanding Performance by a Female Actor in a Leading Role.
Though Larson took a simpler approach for the Oscars, her dress was just as stunning as her past outfits.
She clearly won the Oscar's red carpet. Now all she needs to do is win the Oscar.