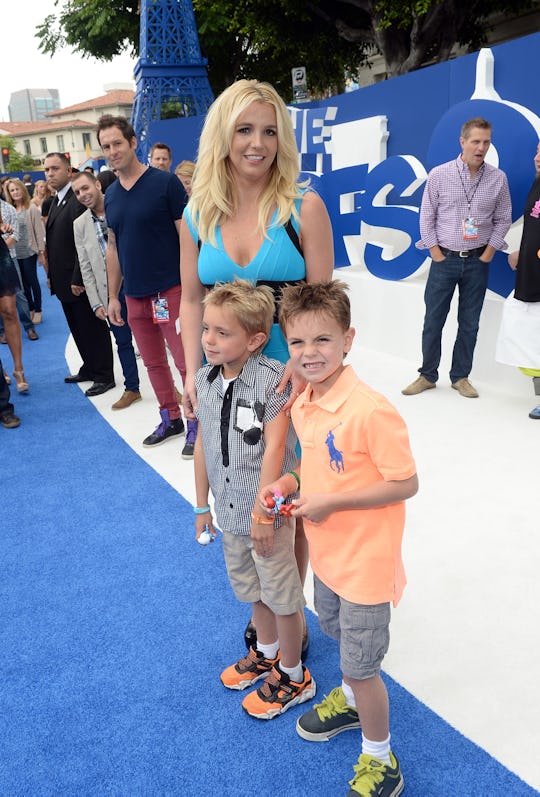 Michael Buckner/Getty Images Entertainment/Getty Images
Britney Spears Threw A Pokemon Birthday Party For Her Sons & It Was Adorable
Even celebrities can't escape the Pokémon Go craze, and if you can't beat 'em, join 'em (or maybe we should say, catch 'em). Britney Spears' two sons, Sean and Jayden Federline, had the ultimate joint birthday bash with a theme based on the popular game. Britney Spears threw a Pokémon themed birthday party for her sons, and it's adorable.
"Big bday for my boys! Double digits whoop whoop!," Spears wrote as the caption of a photo of the party, which she posted to Instagram.
The party featured a Pikachu-topped cake, balloons, Poké Balls with the Sean and Jayden's names inscribed on them, and cake pops shaped like various pokémon.
Spears spoke of her sons obsession with Pokémon Go during a radio show. "[My kids] are addicted to it, they're constantly talking about it, and I'm introduced to these new Pokémon everyday," Spears told Australian radio show 2DayFM in August. "They got me to go shopping all over the mall to look for Pokémons. I was like, 'Well you know what, it's summer we have nothing to do today, let's go look for Pokémon!'"
Her sons' birthdays are just days apart — Jayden's is September 12th, while older brother Sean's is September 14th. Jayden just turned 10 and Sean will be turning 11. Their dad, Kevin Federline, also posted a video of the birthday bash to Instagram.
The pop star has posted pictures and videos of her family on social media before: just look at this Instagram picture of Sean with blue hair!
Spears said that she has long struggled with anxiety, but that becoming a mother has helped relieve that anxiety.
"Becoming a mother and being with my boys has made me so much more accepting of myself. I'm their mom, whatever," Spears told Marie Claire UK. "That has been a really big thing for me over these last few years."
Her sons have also been her biggest supporters. Spears' MTV Video Music Awards appearance this past August was her first time back at the award show in a decade, and her sons gave her performance with the rapper G-Eazy rave reviews.
"I got to do some of his song, G-Eazy, and so it just made it more interesting for me," Spears said on Elvis Duran and the Morning Show. "My kids think he's fricken cool! They're like, 'Mom! You're cool now!' I'm like, 'Thanks! That's all I had to do!"
Spears also recently discussed the possibility of expanding her family. During a "Carpool Karaoke" segment with James Corden, Spears admitted she wants as many as three more children. If Spears does have more kids one day, let's see if they'll be Pokémon fans, too.