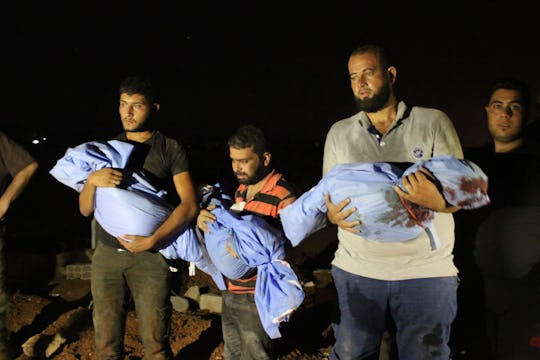 MOHAMAD ABAZEED/AFP/Getty Images
Brother Of Syrian Boy Injured In Airstrike Dies & We Are Heartbroken
His picture has been shared all over the internet, the little boy covered in blood and mud who had just been pulled from the rubble of an apartment building. His family had been saved from an air strip in the war-ravaged city of Aleppo, and five-year-old Omran Daqneesh sat dry-eyed in the back of an ambulance. Waiting to find out what had happened to the rest of his family. Now we know what happened to Omran Daqneesh's older brother, Ali; he has died from injuries he sustained in the airstrike on Wednesday.
Ali Daqneesh was just 10-years-old. He died on Saturday, according to the Aleppo Media Center. The Daqneesh family, two parents and four children, were in their home in the Qaterji neighborhood of Aleppo when their apartment building was hit during an airstrike. Al Jhazeera journalist Mahmoud Raslan, who took the photo of Omran, was one of a team of rescue crews and journalists who lifted the family from the rubble. The photo of Omran, tiny and stoic and world-weary, sitting in the back of that ambulance, shocked the world into sitting up and taking notice of the horrors happening in Aleppo. The city is caught between two warring factions: the Russian-funded Syrian government army in the West, and resistance forces in the east. Some 300,000 people are caught in the crossfire.
While the internet was lit up with the photo of Omran all week, there are no such photos of Ali. He died in relative anonymity, like 4,500 other children who have died in Aleppo during the Syrian civil war. He died in a hospital, badly underserviced and in need of supplies. He died before he could become a teenager, before he could have his first kiss or drive a car or have any ordinary, bland adventures everyone should be able to take for granted. He died not as Ali Daqneesh, but as "brother of Omran", and that is just... no.
Ali's death serves as a harsh but important reminder that Omran is, ridiculously, one of the lucky children in Aleppo. Because, despite the terror he must live through, despite his dry-eyed, world weary face, despite the fact that he has lived his entire life in the middle of a civil war... he lives.
Don't let his picture become just that, a picture. Don't forget Omran, and don't forget Ali. The world has forgotten them for long enough.